Strategy 1

Achieve Equality of Voice and Representation
Multi-Member House Districts
Strategy 1

Achieve Equality of Voice and Representation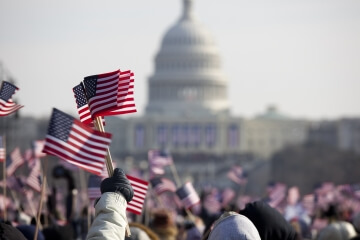 Recommendation 1.3
Amend or repeal and replace the 1967 law that mandates single-member districts for the House, so that states have the option to use multi-member districts on the condition that they adopt a non-winner-take-all election model.
Read in the Report
Why multi-member districts?
The combination of winner-take-all elections (Recommendation 1.2) and gerrymandering (Recommendation 1.4) limits the voices of those in the political minority. When combined with ranked-choice voting, multi-member districts would give more voice to those in the political minority and would push candidates to appeal to a wider array of voters.

In this scenario, two or more House districts would be combined into a new larger district, which would send multiple representatives to Washington. Instead of drowning out minority votes, multi-member districts would amplify the benefits of ranked-choice voting and signal a victory for equal voice and representation.

Congress mandated the use of single-member House districts in 1967. The law made sense at the time, as there was concern that efforts might be made in the South to draw large multi-member districts that took representation away from black voters. Many of the concerns that motivated the 1967 law are still valid today. Within the framework of winner-take-all voting, state legislatures could draw large gerrymandered districts that dilute the votes of non-white voters and voters in the political minority. States should only be permitted to draw multi-member districts if they adopt ranked-choice voting for those districts.

Today, ten states have at least one state legislative chamber with multi-member districts.
Election Reformers Network is nonpartisan 501c(3) founded by election specialists with backgrounds in international democracy support, election monitoring, and U.S. reform campaigns. ERN develops and advocates for tailored institutional reforms, particularly in areas of U.S. democracy that can benefit from a comparative international perspective. ERN has backed winning ballot initiatives for ranked choice voting and independent redistricting and published widely in support of reforms in areas including the electoral college and mult-member districts for Congress. 
FairVote is a nonpartisan champion of electoral reforms that give voters greater choice, a stronger voice, and a representative democracy that works for all.
New America works towards an open, fair democratic process, with equitable opportunities for full participation, in order to restore dynamism and growth to the American economy and society.
RepresentWomen works to advance women's representation and leadership through research and advocacy on data-driven systems strategies that enable all women to run, win, serve, and lead in appointed and elected offices in the United States.
Unite America is a movement of Democrats, Republicans, and independents working to put voters first by fostering a more representative and functional government. Unite America invests in campaigns to enact reforms and elect candidates so that the right leaders have the right incentives to solve our country's greatest problems.