Strategy 1

Achieve Equality of Voice and Representation
18-Year Terms for Supreme Court Justices
Strategy 1

Achieve Equality of Voice and Representation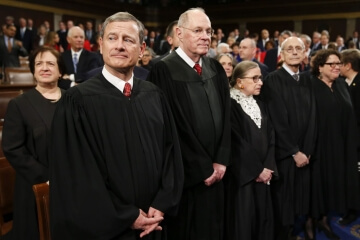 Recommendation 1.8
Establish, through federal legislation, eighteen-year terms for Supreme Court justices with appointments staggered such that one nomination comes up during each term of Congress. At the end of their term, justices will transition to an appeals court or, if they choose, to senior status for the remainder of their life tenure, which would allow them to determine how much time they spend hearing cases on an appeals court.
Read in the Report
The framers intended Supreme Court justices to serve life terms, but, with increased lifespans, these unelected justices hold immense power for decades longer than the framers imagined.

In recent years, the Court has become increasingly polarized, and Americans' trust in the Court has declined. Additionally, because the number of vacancies a president fills is determined by the luck of the draw, the Court has become yet another contentious part of partisan politics.

SOURCE: Pew Research Center
The remedy: abolish life terms. Eighteen-year term limits would make the Court less of a presidential campaign issue and would restore Americans' faith in the Court as an independent arbiter of justice.

Enacting eighteen-year terms for Supreme Court justices would go a long way toward depoliticizing the appointment process, yet for this remedy to be truly effective it would need to be paired with regular appointments: one Supreme Court justice nominated during each term of Congress. With each president responsible for two nominations per term, the nomination process would become less partisan. More importantly, eighteen-year terms married to regular appointments would help move the Court toward a less partisan future and restore its legitimacy in the eyes of the American people.

The Constitution states that justices serve "during good behavior," but it does not explicitly establish the type of judicial work done during a life term. Under our proposal, at the end of their terms, justices would take "senior status," which would allow them either to retire or to sit on a lower court with undiminished salary for the remainder of their careers. The Commission believes that this structure may make it possible for Federal legislators to enact eighteen-year terms for Supreme Court justices without a constitutional amendment.  
Our Common Purpose leaves open several key details about how implementation of Supreme Court term limits would work. For instance: how will a transition to term limits be handled? What will be the scope of justices' post-term duties? The answers to these questions have outsize importance because they may impact whether a term limits statute would be constitutional. Accordingly, in June 2022 the Academy convened a new working group of political scientists and legal scholars with views across the ideological spectrum to try to resolve these and other crucial questions. The work of this group will inform a dedicated analysis to be issued in 2023. 
Fix the Court is committed to working to implement this recommendation in order to help reinvent American democracy for the 21st century.
Fix the Court is a national nonpartisan organization that advocates for greater transparency and accountability in the federal courts, primarily in the U.S. Supreme Court, which in recent years has become the most powerful, least accountable part of our government. We believe that live broadcasts of oral arguments, stronger ethics and recusal rules, greater transparency about junkets and conflicts of interests, and an end to life tenure would bring the high court into the modern era of open government.