Strategy 2

Empowered Voters
Move Election Day to Veterans Day
Strategy 2

Empowered Voters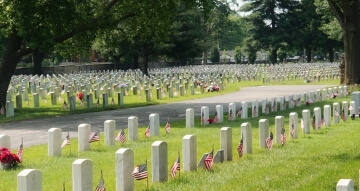 Recommendation 2.2
Change federal election day to Veterans Day to honor the service of veterans and the sacrifices they have made in defense of our constitutional democracy, and to ensure that voting can occur on a day that many people have off from work. Align state election calendars with this new federal election day.
Read in the Report
American veterans fought to preserve our nation's democracy and our right to vote. To honor their sacrifice and to ensure that the greatest number of people have a chance to participate in our elections, Congress should make Veterans Day our federal election day.

Our current federal election day, the first Tuesday of November, was chosen in 1845 to meet the needs of America's mid-nineteenth-century agrarian society. It is long past time to reassess the needs of voters. Moving federal election day to Veterans Day will honor the patriotism of generations of service members and remind Americans of their obligation to constitutional democracy and to one another. It will also make casting a ballot easier for today's voters.
Did you know?
Tuesday was chosen as election day, in 1845, because it allowed voters in an agrarian society to avoid interference with both the weekly market day, usually a Wednesday, and the Sabbath. Creating an election day that puts the needs of its voters first is a principle that is as applicable today as it was 175 years ago.
of Americans favor making election day a national holiday.
Aligning election calendars
America has more elections than almost any other country. To reduce the number of times voters are called to the polls, state legislatures and municipalities should align their calendars with those of the federal government.
Aligning calendars could significantly increase turnout, particularly in low-participation elections like local legislative bodies and school boards. To combat the "choice fatigue" that comes with longer ballots, municipalities have begun experimenting with innovative solutions.
One example is flipping the ballot order so that traditionally down-ballot items like school-board elections appear at the top, whereas well-publicized items like presidential or gubernatorial races appear at the bottom.
The number of elective bodies in the U.S. The nation has a total of 519,682 elected officials.
Source: Lawless, Jennifer. Becoming a Candidate (Cambridge University Press, 2012)
Faithful Democracy is committed to working to implement this recommendation in order to help reinvent American democracy for the 21st century.
Faithful Democracy is a multi-faith coalition of faith-based organizations and congregations who share the moral imperative of fixing our democratic systems. While our partners represent a diversity of beliefs and traditions, we unite around the common goal of creating a healthier, thriving democracy.