Strategy 3

Ensure the Responsiveness of Government Institutions
Make Public Meetings More Accessible
Strategy 3

Ensure the Responsiveness of Government Institutions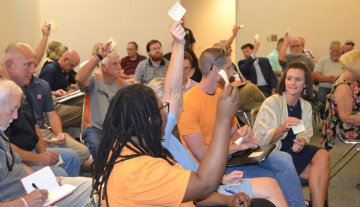 Recommendation 3.1
Adopt formats, processes, and technologies that are designed to encourage widespread participation by residents in official public hearings and meetings at local and state levels.
Read in the Report
Citizens face many barriers to engagement at the local level.

Public meetings and hearings are often structured and scheduled in ways that discourage participation and limit interaction between officials and those they represent. The lack of engagement corrodes Americans' faith in government and threatens to give them the impression that local government is not well equipped to solve basic problems.
In communities large and small, the Commission's listening-session participants told us that too many public meetings seem to be designed "for show," with all of the important decisions having already been made behind the scenes. Many noted that traditional public hearings tend to lead to gripe sessions, fail to generate thoughtful discussion, and reflect the interests of a few well-organized groups rather than the entire community.
The Commission recognizes that policymakers often have to set priorities and put certain items on the agenda. We are not suggesting that all meetings be so open and so open-ended that no business can occur. Yet public meetings can expand the role of residents to increase the legitimacy of the outcomes.
of Americans attended a public meeting to discuss a local issue in the last year.
Public hearings and meetings should be more inclusive and accessible so that Americans can more easily engage with their elected officials and make their voices heard. Some community leaders around the United States have already recognized that citizen engagement can improve if they remove the barriers to participation.
Their efforts include:
Live-streaming meetings
Allowing people to participate online or by phone
Adopting small-group breakout sessions within large meetings to encourage participation
Using a trained moderator to help ensure all voices are heard
Adopting times and locations that are friendlier to all parts of the public
Many of these innovations became even more important following the onset of the COVID-19 pandemic. All local and state public officials should use civic-engagement principles and meeting designs that encourage input from broad cross-sections of Americans. Giving more power to local governments, where possible, will also further energize local engagement.
"So, why do I show up at public meetings? I'm going to speak and then you're not going to respond and you're going to proceed with the agenda."
"When I was younger I probably thought voting was more important than I do now... When you see the City get behind closed doors, and have closed-door meetings … The old Charlotte Hornets NBA stadium, the public didn't want it. Behind closed doors, guess what? You're getting it anyway, and you're going to pay for it, and you're going to like it.… Time after time after time, what difference does it make if you vote when they're just going to go behind closed doors and do whatever they want to do?"
—Charlotte, North Carolina
"I have gone to so many public hearings and looked at the panel and thought, 'You don't really care what I have to say.' I just wasted two hours driving to Augusta in a snowstorm, and you have already made up your mind on what you're going to do."
"The national level is less tangible. You see less . . . tangible effects. But it's the local candidates who don't get as much of the spotlight who are actually changing your life on a day-to-day basis."
In 2019, four decades after thousands of Cambodian refugees relocated to Lowell, Massachusetts, the Lowell City Council Interpretation Project began to issue summaries of City Council meetings in Spanish and Khmer, the official language of Cambodia, on local cable channels and YouTube.

Organizers' hope that, with these translations, more community members will be informed about decisions that affect them and will feel prepared to vote in local elections. Despite its success in engaging members of the Cambodian community, funding issues have jeopardized the program in Lowell as well as similar translation programs in other small cities.
The Davenport Institute for Public Engagement works with local governments, non-profit organizations, and residents to both promote and support constructive and broad-based civic involvement in decisions that affect people where they live and work. 
The Participatory Budgeting Project (PBP) is a nonprofit organization that empowers people to decide together how to spend public money, primarily in the US and Canada. We create and support participatory budgeting processes that deepen democracy, build stronger communities, and make public budgets more equitable and effective.
Democracy Rising believes that the best approach to bring about election reform is to have impacted communities lead the advocacy process and to ensure the implementation of reforms are efficient and inclusive. We achieve this through long term partnerships with community partners, candidates, and jurisdictions on the ground by providing tailored trainings, tools, and resources to help build capacity for success. 
The Village Square hosts community-based programming that gathers citizens who don't look or think alike to find common ground, shared values and build civic trust.
CivicLex is a civic education and media organization based in Fayette County, Kentucky that works to help residents understand and get involved with the issues, policies, and processes that shape where they live.