Strategy 3

Ensure the Responsiveness of Government Institutions
Create Citizens' Assemblies
Strategy 3

Ensure the Responsiveness of Government Institutions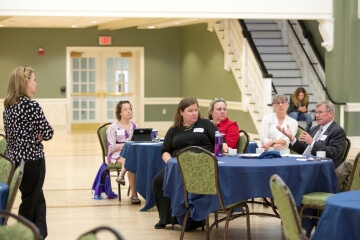 Recommendation 3.3
Promote experimentation with citizens' assemblies to enable the public to interact directly with Congress as an institution on issues of Congress's choosing.
Read in the Report
Distrust and disengagement
Many participants in the Commission's listening sessions said they feel Congress does not represent people like them. For some Americans, this distrust leads to political disengagement.
have little or no confidence in elected officials to act in the public's best interest.
To increase trust in Congress, the House of Representatives must demonstrate that it is eager to engage directly with the American people.

Congress should convene "citizen assemblies," representative samples of the nation brought together to deliberate about issues of national importance and to submit recommendations to Congress. These assemblies would help restore trust in Congress and would illustrate that Washington is responsive to the voices of the American people.
say it is unlikely their member of Congress would help them address a problem if contacted.
"I want to live in a democracy where I can trust and respect institutions, but at the same time, I want those institutions to trust and respect me."
Texas Wind Power
Beginning in 1996, eight Deliberative Polls were conducted in Texas to provide input on decisions about how to provide electric power in each part of the state. Coal, natural gas, conservation, renewable energy? Each posed tradeoffs which were the subject of a weekend's deliberations by a stratified random sample of at least 175 residents. The projects led to large and continuing investments in wind power. Texas went from last among the fifty states to first in the amount of wind power as a direct result of these projects and the further statewide legislation they stimulated.
Fiscal Responsibility and Reform
In 2010, AmericaSpeaks organized a citizens' assembly on debt and the national deficit. Roughly 3,500 Americans in 57 locations, linked by video, were invited to deliberate on America's fiscal future. Their recommendations were submitted to the Senate and House budget committees and were critical to the work of the National Commission on Fiscal Responsibility and Reform, a bipartisan presidential commission on deficit reduction.
Congressional Policy-Making
More recently, CommonSense American—an initiative of the National Institute for Civil Discourse—put a set of challenging policy issues before a representative sample of Americans whose recommendations will form part of the policy debate in Congress. Those issues included the funding of Pell Grants, the problem of surprise emergency-room billing, and possible reforms to the legislative calendar.
James S. Fishkin holds the Janet M. Peck Chair in International Communication at Stanford University where he is Professor of Communication and Professor of Political Science. He is also Director of Stanford's Center for Deliberative Democracy and Chair of the Dept of Communication.
The National Institute for CiviI Discourse (NICD) is a nonpartisan center for advocacy, research, and policy regarding civil discourse.
The Participatory Budgeting Project (PBP) is a nonprofit organization that empowers people to decide together how to spend public money, primarily in the US and Canada. We create and support participatory budgeting processes that deepen democracy, build stronger communities, and make public budgets more equitable and effective.