Strategy 4

Dramatically Expand Civic Bridging Capacity
Create a Trust for Civic Infrastructure
Strategy 4

Dramatically Expand Civic Bridging Capacity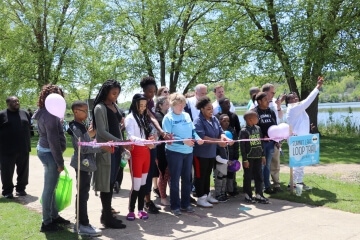 Recommendation 4.1
Establish a Trust for Civic Infrastructure to scale up social, civic, and democratic infrastructure that supports bridging opportunities through a major nationwide investment campaign with private enterprise and philanthropy seed funding. This might later be sustained through annual appropriations from Congress on the model of the National Endowment for Democracy.
Read in the Report
What is civic infrastructure?
Physical infrastructure, like highways, trains, and tunnels, creates connections between places. Civic infrastructure consists of gathering places like parks, libraries, schools, churches, and museums, spaces that bring people together and help form community bonds. It takes inspired leaders, organizational capacity, and networks for community engagement to flourish. The places, spaces, leaders, organizations, and networks that facilitate and undergird civic life are what we refer to when we speak of civic infrastructure.

People who engage with one another through common interests or experiences are more likely to develop a shared sense of collective good. Civic infrastructure supports interactions through which different segments of our society can connect and develop a sense of common purpose.
"I think often just kind of a common place, like the farmer's market, playgrounds, parks — places where you're not necessarily gathered intentionally with other people, but you are coming together as a community with people who represent a lot of different views."
"We don't have enough spaces, enough civic spaces where people actually do learn how to be civic. … There are very few places where everyone in the community is entitled to go and be working together."
"Where can you go within a jurisdictional limit of a city, other than a park, where everybody truly has sort of an equal ownership interest...That is a great, equalizing piece of property, and that's where you mix everybody together with their activities and groups...public parks are critical for democracy."
The state of civic infrastructure today
Although it is challenging to measure the health of our civic infrastructure, there is no question that our civic infrastructure today is poorly supported and too often underappreciated.  

In communities of every size, Americans told the Commission that there are not enough places that bring people together. The available evidence supports this conclusion. Federal and state governments have weakened civic infrastructure by introducing cuts to libraries, public parks, and community recreation programs.
In 2017, the American Society for Civil Engineers gave the nation's public parks a D+ grade.
Creating a Civic Infrastructure Trust
The United States needs a Trust for Civic Infrastructure, an organization whose focus would be strengthening civic infrastructure on both the national and local levels.

Funding for the Trust should come initially from private funders and philanthropic organizations, but the organization should eventually be funded by Congress through annual appropriations. Congress already provides funds to strengthen democracies abroad through the National Endowment for Democracy. Why not fund democracy at home, too? 
 

 

The Gathering House in Spokane, Washington, is a "job training coffee shop" that gives people coming out of poverty, addiction, or parole a chance to work and build a resume.

On Sunday, the coffee shop closes, and with the barista bar a pulpit and café tables pews, the Gathering House becomes a church. Led by Pastor Rob Bryceson, the Gathering House has become a fixture of Spokane's civic life. Business and nonprofit groups use its space to hold meetings.

Akron Civic Commons is connecting isolated communities by collaboratively reimagining public spaces. The effort includes investments in local neighborhoods and the Ohio & Erie Canal Towpath Trail that connects them. "Temporary and permanent design features and regular programming are reestablishing the 100-acre Summit Lake as a place of civic pride and play, bridging diverse neighborhoods including Ohio & Erie Canal Park and fostering economic development and public life in Akron's downtown."
Civic Health Project is dedicated to reducing toxic partisan polarization and enabling healthier public discourse and decision-making across our citizenry, politics, and media. Through grant making and advocacy, Civic Health Project supports initiatives that empower Americans to reject tribal partisanship and come together to solve our nation's greatest challenges.
CivicLex is a civic education and media organization based in Fayette County, Kentucky that works to help residents understand and get involved with the issues, policies, and processes that shape where they live. 
The Village Square hosts community-based programming that gathers citizens who don't look or think alike to find common ground, shared values and build civic trust. 
Hosted by Duke University's Sanford School of Public Policy, the North Carolina Leadership Forum provides an opportunity for civic, business and political leaders from across North Carolina to discuss issues central to the future of our state.