Strategy 4

Dramatically Expand Civic Bridging Capacity
Strategy 4

Dramatically Expand Civic Bridging Capacity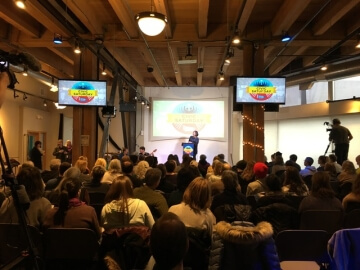 Recommendation 4.2
Activate a range of funders to invest in the leadership capacity of the so-called civic one million: the catalytic leaders who drive civic renewal in communities around the country. Use this funding to encourage these leaders to support innovations in bridge-building and participatory constitutional democracy.
Read in the Report
Scholar Peter Levine coined the term "civic one million" to refer to people who work to engage other Americans in the democratic process. The community organizations they lead are vital avenues for the practice of democratic citizenship. By supporting the civic one million, we support the communities they serve.

Civic leadership requires understanding how to unite groups of people, navigate tensions, and develop a shared sense of something larger than oneself. Organizations with skilled leaders are more likely to develop the highly engaged members that create durable bonds, foster home-grown leadership, shape policy, and affect long-term change.
of Americans got together with neighbors to do something good for their community in the past 12 months.
"We kind of grow our leadership organically. Eighty percent of our school board were former parent volunteers. . . . As you move through that system, and your kids get older, and you're involved, you get a glimpse of the issues—what's going on, how much this matters . . . why isn't there more money. . . . By the time your kids have moved through the system, you're fairly experienced in those education issues. And then you end up running for school board."
of Americans belong to groups, organizations, or associations.
To properly support the civic one million, American philanthropists—and philanthropic foundations, in particular—will need to change their habits.

Currently, philanthropic foundations spend only 1.5 percent of their collective grantmaking dollars on efforts to improve and reform democracy, and they allocate only a sliver of that to supporting civic leaders. Foundations can and must do better to foster the civic one million and ensure that this cohort encompasses the full breadth of American social diversity. Support for the civic one million will also be a focus of the National Trust for Civic Infrastructure (Recommendation 4.1).
Citizen University's Civic Collaboratory includes the Youth Civic Collaboratory, where a diverse cohort of young people practice civic-leadership skills, including the practice of mutual aid.
Civic Health Project is dedicated to reducing toxic partisan polarization and enabling healthier public discourse and decision-making across our citizenry, politics, and media. Through grant making and advocacy, Civic Health Project supports initiatives that empower Americans to reject tribal partisanship and come together to solve our nation's greatest challenges.
Everyday Democracy supports organizing across the country by bringing diverse groups of people together, helping them structure and facilitate community dialogue on pressing issues, and training them to use a racial equity lens to understand longstanding problems and possible solutions. Our function is unique and unparalleled in the community engagement field:  helping people create the spaces where they can build skills to bring difficult topics to light and address them effectively over the long term.  Our work helps communities move conversation into action, and action into lasting positive change.
GenUnity seeks to be an accessible, equitable civic gym that supports individuals to develop their civic agency ('muscle') to influence positive change in their local communities.
The Village Square hosts community-based programming that gathers citizens who don't look or think alike to find common ground, shared values and build civic trust.
Hosted by Duke University's Sanford School of Public Policy, the North Carolina Leadership Forum provides an opportunity for civic, business and political leaders from across North Carolina to discuss issues central to the future of our state.