Strategy 6

Inspire a Culture of Commitment to American Constitutional Democracy and One Another
Create a Universal Expectation of National Service
Strategy 6

Inspire a Culture of Commitment to American Constitutional Democracy and One Another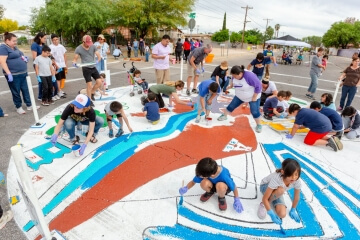 Recommendation 6.1
Establish a universal expectation of a year of national service and dramatically expand funding for service programs or fellowships that would offer young people paid service opportunities. Such opportunities should be made available not only in AmeriCorps or the military but also in local programs offered by municipal governments, local news outlets, and nonprofit organizations.
Read in the Report
Americans are increasingly worried that too many of us are satisfied sticking with our "tribes" – those who are like-minded and come from backgrounds similar to our own.

Throughout the Commission's listening sessions, participants said only moments of tragedy seem to unite Americans as a nation. Within the comfort of our tribes, it is easy to lose track of our shared commitment to each other and to the common good.
of Americans discuss political, social or local issues with friends or family at least a few times a month. But 67% never discuss these issues with neighbors.
"I think that loss of the vision of what's best for everyone shows up in the lack of compromise – that it becomes your little silos, and there's not much crossing over to say, 'Oh, for the nation as a whole, we need to do x, y, or z,' instead of, 'For my party, we need to do x, y, or z.'"
National service can bring us together
Through national service, Americans can help rebuild communities, shore up civic institutions, and demonstrate their commitment to each other and to improving the nation.

Service groups help participants develop skills, explore career options, and build relationships with people from different backgrounds.

The nation not only needs national service, it needs a universal expectation of service. A new culture of national service would inspire adults of all ages to take advantage of existing service opportunities and would also lead to the creation of new service opportunities. Ensuring that employers and colleges value the service experience in their students and employees will help establish this culture of service to each other and to the nation. As service becomes widespread, cohorts of diverse service corps alumni will be created who share a common experience of service to the nation.
For this expectation to take hold, service must become universally accessible, with paid positions for those who serve.  Otherwise, they will simply be privileged opportunities limited to those who can afford them. Currently, paid service positions like Teach for America, the Peace Corps, and Service Year receive far more applicants than they can admit.
If Congress, foundations, local governments, and others work together to expand funding for service opportunities, they will become a more viable choice for more Americans.
of applicants are accepted at Teach for America each year. Peace Corps accepts only 30% of applicants. And Service Year has a roughly 33% acceptance rate.
"Citizenship is also a collective responsibility. It's not just individual and family, but also that we have a stake in each other's future … especially in a time where it is so fractured."
"I think the idea of national service or community service breaks us out of our little cocoons that we tend to live in and makes us recognize that the people that I disagree with have a lot of similarities to me."
"[During a series of wildfires in Ventura County] you saw people come out -- I mean, I had a guy on my street who put houses out and stayed behind when there were no fire trucks and, I think, in turn, saved us all.  And you had a lot of, like, you know, people stepping up to volunteer and people getting to know their neighbors for the first time.  There was kind of a civic awakening in that sense, that we are all, because of tragedy, responsible with each other.  So I feel a new connectedness.  I hope that stays."
—Ventura County, California
"I think my generation did not teach our children well on how to volunteer and participate and that's coming from something of my generation where we're not participating… I believe that what we're missing is the desire from our citizenry to volunteer and to participate.  I myself am so guilty of that.  My father and my grandfather and my aunts and uncles were so active in our community, on the hospital board, county commissioners, volunteer fire, you know, all of my life I grew up with that and I never volunteered for anything and I don't know why."
What qualifies as service?
There are many ways to serve, from the military to college gap year programs to community-based programs.

Young people should not need to leave their communities to serve. With the exodus of baby boomers from the workforce, municipal governments will need new capacity and local expertise. In the wake of the pandemic, service members are uniquely positioned to support public health needs and rebuild communities.

Military Service

We should not discuss national service without also recognizing the many Americans who demonstrate their commitment to our constitutional democracy and their fellow Americans through military service. Military service protects the nation, but it also creates new opportunities to engage in civic life, to meet Americans from a variety of backgrounds, and to begin a lifelong commitment to national service. Veterans are more likely to become engaged in their communities than Americans who have not served in the military.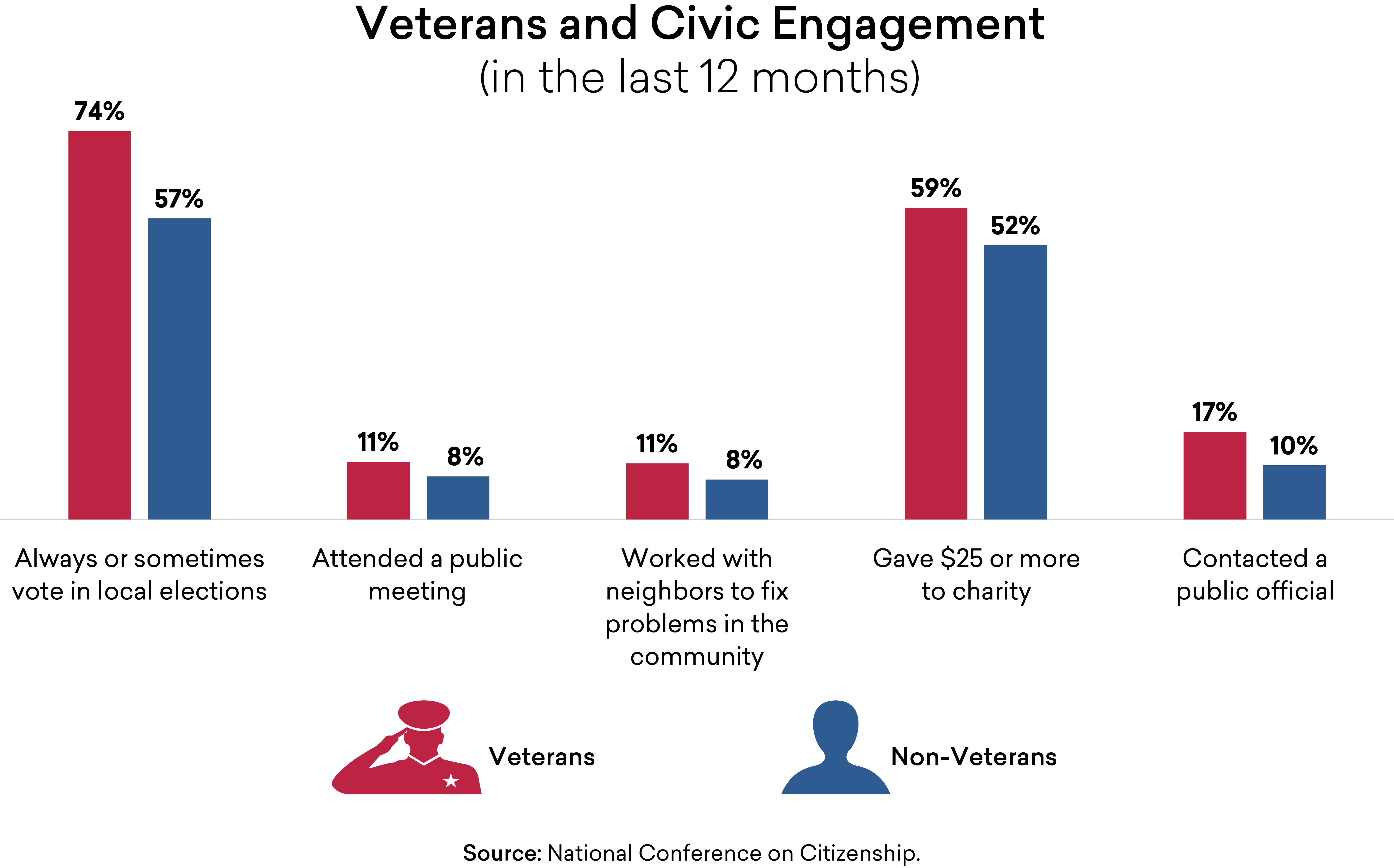 of American men in 1980 had military experience. In 2014, just 16% had military experience.
"My husband will tell you today, that [enlisting in the army] was the best thing that ever happened to him.  And he has been able to use that experience throughout his life, and he still talks about his service … and that used to be something that unified virtually all men."
Service Year Alliance is committed to working to implement this recommendation in order to help reinvent American democracy for the 21st century.
Service Year Alliance is working to make a year of paid, full-time service — a service year — a common expectation and opportunity for all young Americans.