Strategy 6

Inspire a Culture of Commitment to American Constitutional Democracy and One Another
Telling Our Nation's Story
Strategy 6

Inspire a Culture of Commitment to American Constitutional Democracy and One Another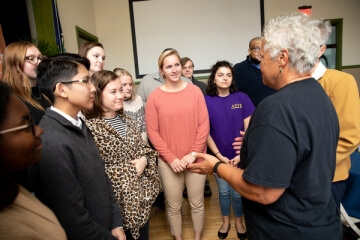 Recommendation 6.2
To coincide with the 250th anniversary of the Declaration of Independence, create a Telling Our Nation's Story initiative to engage communities throughout the country in direct, open-ended, and inclusive conversations about the complex and always evolving American story. Led by civil society organizations, these conversations will allow participants at all points along the political spectrum to explore both their feelings about and hopes for this country.
Read in the Report
Two narratives of American past
The nation's polarization extends to how American history is taught.

The nation's story is generally told in one of two ways: one story is of the nation that invented modern rights-based constitutionalism. The other is of a country founded on enslavement and genocide. Americans face the challenge of melding the glory and the gory of the nation's past into a shared narrative that does justice both to core democratic values and to our failures to live up to them.
"I think a shared national narrative unites us, but I also think it's dividing us. You know, we were all longing for the days of Walter Cronkite and it might have seemed pretty good, but if you were African American or gay or a woman, it probably wasn't all that great. And so now as more groups that have been excluded from the mainstream are included, whether they force their way in or they're brought in, it changes that shared narrative. And some of that unity that we felt, whether it was artificial or not, is fractured."
Working toward a common narrative
In order to create a culture of commitment and a sense of shared values, we must address all aspects of our nation's history.

The year 2026 — the nation's 250th anniversary — represents a unique opportunity for conversations about America's ever-changing story. Uncovering the narratives that unite us, and reckoning with those that divide us, is integral to the practice of democratic citizenship.

These conversations will bridge our divides, create space for collaboration, and encourage the development of new narratives of American history. Whatever narratives come from these conversations, they should be honest about the past: they must demonstrate a respect for the country's founding and leaders without tipping into idolization. They should acknowledge our faults and take pride in the progress we have made. Working through how we tell ourselves stories about ourselves is a necessary part of renewing our ability to work together for constitutional democracy.
William Sturkey, Associate Professor of History at the University of North Carolina at Chapel Hill, speaks at a virtual Academy event on "Telling Our Regional Story: The Narratives that Unite and Divide in North Carolina."
"To me, it's about history. And I think that's a dimension that's critical here. We are not telling ourselves the truth about our history."
"[In a discussion about Cheapside, a site in Lexington, Kentucky, where enslaved people were bought and sold]: "A lot of groups had the opinion that, you know, rather than totally removing things, you know, from history and whitewashing them so to speak, that rather we prefer to have context provided for those things, and that did end up getting accomplished. I think there's plaques now downtown that explain the history of Cheapside. So rather than removing it just, you know, providing information of what this was and telling the story accurately so that people feel acknowledged is a big part of it."
The Federation of State Humanities Councils is the national member association of the 55 state and jurisdictional humanities councils, which engage millions of citizens across diverse populations in community and civic life. To allow new narratives to develop, the Federation will launch a series of community conversations to enable participants to explore their  hopes for the country while tackling the full range of stories that make up our complex history. Since 2015, the Federation of State Humanities Councils has led three major national initiatives that engaged communities across the states and territories in conversations about issues of pressing concern, such as the role that journalism and the humanities play in a democracy.
Democracy Rising believes that the best approach to bring about election reform is to have impacted communities lead the advocacy process and to ensure the implementation of reforms are efficient and inclusive. We achieve this through long term partnerships with community partners, candidates, and jurisdictions on the ground by providing tailored trainings, tools, and resources to help build capacity for success. 
The Village Square hosts community-based programming that gathers citizens who don't look or think alike to find common ground, shared values and build civic trust.