Strategy 6

Inspire a Culture of Commitment to American Constitutional Democracy and One Another
Strategy 6

Inspire a Culture of Commitment to American Constitutional Democracy and One Another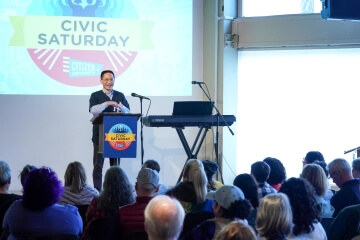 Recommendation 6.3
Launch a philanthropic initiative to support the growing civil society ecosystem of civic gatherings, ceremonies, and rituals focused on ethical, moral, and spiritual dimensions of our civic values.
Read in the Report
Democracy works only if enough of us believe it works. Today, fewer and fewer people have faith in our democratic system and in their fellow Americans.
of American millennials believe choosing leaders through free elections is "unimportant"
Faith in democracy requires communal effort and culture: shared ceremonies, intentional forms of play, work, storytelling, conversation, and gathering.

These rituals allow people to come together to try to close the gap between our high ideals as Americans and our persistently unjust realities.

In this time of declining trust and common purpose, Americans have already formed groups dedicated to encouraging inclusive self-government. We believe these new groups should be supported by established organizations in all fields and sectors so they can develop together into a thriving ecosystem. This initiative would activate funders and others with convening and storytelling power to help foster a civic spirit.
This is a dynamic field, with new examples appearing frequently.
Citizen University is a national nonprofit focused on building a culture of powerful, responsible citizenship across the country. It was founded in Seattle in 2012 by Eric Liu and Jená Cane. We at Citizen University envision a great civic revival across our nation--our dream is a country in which Americans are steeped in a sense of civic character, educated in the tools of civic power, and are problem-solving contributors in a self-governing community. 
Made By Us brings together the nation's history museums and sites in an unparalleled collaboration to better engage young Americans with history for informed civic engagement, leading up to the nation's 250th anniversary in 2026. Led by familiar names such as the Smithsonian, Monticello and the National Archives, and driven by a coalition of over 80 organizations, Made By Us creates programs and digital platforms to connect young people in every corner of the nation with our shared past, present and future.  
CivicLex is a civic education and media organization based in Fayette County, Kentucky that works to help residents understand and get involved with the issues, policies, and processes that shape where they live. 
The Village Square hosts community-based programming that gathers citizens who don't look or think alike to find common ground, shared values and build civic trust.