Strategy 6

Inspire a Culture of Commitment to American Constitutional Democracy and One Another
Promote Our Common Purpose
Strategy 6

Inspire a Culture of Commitment to American Constitutional Democracy and One Another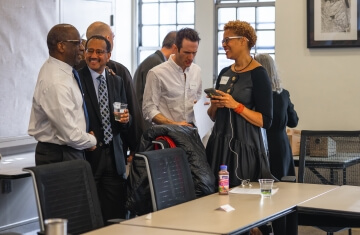 Recommendation 6.4
Increase public and private funding for media campaigns and grassroots narratives about how to revitalize democracy and encourage commitment to our constitutional democracy and one another.
Read in the Report
Lack of attention to democratic citizenship
During every election cycle, billions of dollars are poured into advertising by candidates, political parties, and political action committees.

Cable news devotes hours of airtime to the horse race. By comparison, almost no resources are directed to encourage Americans to engage in activities that promote democratic engagement, especially at the local level.
What if even a small portion of the effort devoted to polarizing issues and candidate personalities was rerouted to encouraging grassroots conversations and to reminding us why the practice of democratic citizenship is important?

Private and public capital can fund advocacy efforts that breathe new life into our democracy and inspire commitment to our constitutional democracy and one another.

The message of these campaigns should be universal. They should promote continuous participation and constructive deliberation. And they should seek to bridge partisan divides.
"What is our responsibility living in a democracy? I think it's a great question, and I don't know that I've ever been asked that question. … I just wonder, you know, to what extent we all … understand what a democracy is."
"We tried to … emphasize that education is one of the key foundations of being a good citizen, of playing a constructive civic role. … I'm routinely running across people in my life outside of the academy who are telling me, "Oh, I'm just turning off the news. I don't want to pay any attention to this anymore. I'm sick of hearing these people." And my response is always, if you don't want to engage, if you don't want to even listen to what's going on, that -- that's where the problem is."
The Purple Project for Democracy and the "I am a voter" campaign

The Purple Project for Democracy launched a campaign in November 2019 to rebuild awareness of democracy, build community, and drive civic engagement. It seeks to disseminate nonpartisan messages about the importance of democracy through podcasts, social media, and influencer campaigns.

The "I am a voter" public-awareness campaign, organized by the Creative Artists Agency Foundation, received over two billion social media impressions between June and November of 2018. This initiative and others sponsored by the CAA Foundation provide an example of how culture and brands can play a role in supporting the work of nonprofits focused on democracy.
The CAA Foundation activates the power and reach of the entertainment, media and sports industries to create systemic social change for a more equitable and optimistic future. We focus our efforts in public education, workforce development, civic engagement and in times of critical need, we jump into action through our Crisis Relief efforts.  Founded as the philanthropic arm of Creative Artists Agency (CAA) in 1995 it has been at the heart of the company and popular culture, investing in our communities and helping our clients achieve their humanitarian goals.
CivicLex is a civic education and media organization based in Fayette County, Kentucky that works to help residents understand and get involved with the issues, policies, and processes that shape where they live. 
The Village Square hosts community-based programming that gathers citizens who don't look or think alike to find common ground, shared values and build civic trust.