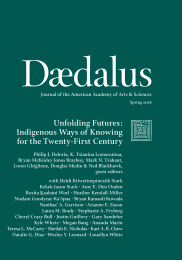 Abstract
A short contextual overview of the past and present opens up a discussion of the challenges surrounding American Indian leadership in the contemporary world and into the future. We survey some of the literature on Native American leadership and consider leadership issues in institutional settings such as academia, tribal governments, pan/inter-Indian organizations, public interest and NGO groups, and global Indigenous structures, suggesting ways in which non-Native organizations can better recognize, respect, and partner with American Indian leaders.
In 1993, leadership consultant Emmett Murphy suggested that American businesses could learn valuable lessons by studying American Indian leaders. He dissected the Battle of the Little Big Horn, comparing the leadership style of George Armstrong Custer– self-centered, top-down, predatory, one-dimensional –with that of Sitting Bull, whom he framed as "heroic." Murphy's Sitting Bull offered a role model for leadership that was powerfully confident, but also collectivist, organic, strategic, and smart. Two decades later, football coach Mike Leach saw a biography of Geronimo as the most effective way to convey his own set of leadership lessons. Unsurprisingly, these focused on preparation, leverage, nimbleness, toughness, indefatigability, and other tropes drawn from the sport.1 Indian leadership–at least as it was viewed from the outside–was a bit about what you wanted it to be.
Over the last several decades, the idea of leadership has become something of an American obsession. The Murphy and Leach books were part of a long wave of prescriptive writing on the subject, often focused on business and government. That writing has been supported by a consulting, coaching, and leadership training industry, itself backed by a range of academic studies, and given additional .  .  .
Endnotes
1Emmett C. Murphy and Michael Snell, The Genius of Sitting Bull: Thirteen Heroic Strategies for Today's Business Leaders (New York: Prentice Hall, 1995); and Mike Leach and Buddy Levy, Geronimo: Leadership Strategies of an American Warrior (New York: Gallery Books, 2014).