The New World of the Indigenous Museum
View PDF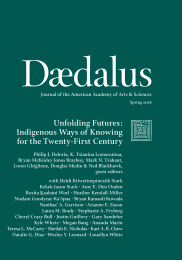 Abstract
Museums have long offered simplistic representations of American Indians, even as they served as repositories for Indigenous human remains and cultural patrimony. Two critical interventions–the founding of the National Museum of the American Indian (1989) and the passage of the Native American Graves Protection and Repatriation Act (1990)–helped transform museum practice. The decades following this legislation saw an explosion of excellent tribal museums and an increase in tribal capacity in both repatriation and cultural affairs. As the National Museum of the American Indian refreshes its permanent galleries over the next five years, it will explicitly argue for Native people's centrality in the American story, and insist not only on survival narratives, but also on Indigenous futurity.
When Indigenous visitors from across the country and the world come to Washington, D.C., they often head for the Smithsonian National Museum of the American Indian (NMAI). Located on the Mall, in close proximity to the Capitol, the distinctive building captures the curvilinear forms of the natural world while simultaneously evoking the elaborate perched stone cities of Southwestern cliff-dwellers. Inside, visitors find flags from a host of tribal nations surrounding a vast domed space, a gathering place for local groups, national organizations, and museum programming.
In the original configuration, put in place at the museum's opening in 2004, three permanent exhibition galleries anchored the museum, along with a theater and film documentary, two changing exhibits, and the Mitsitam Café, which served Native foods from North and South America. Embedded within those three large galleries were a series of smaller spaces featuring tribally curated exhibits meant to explore the history and culture of individual groups, even as the museum itself sought to .  .  .