The Case for Enlarging the House of Representatives
Appendix: Our Common Purpose: Reinventing American Democracy for the 21st Century
Our Common Purpose: Reinventing American Democracy for the 21st Century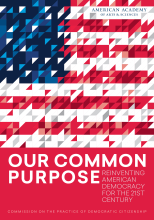 Our Common Purpose is the final report of the American Academy of Arts and Sciences' Commission on the Practice of Democratic Citizenship. Members of this bipartisan Commission are drawn from academia, civil society, politics, and business, and they hosted nearly fifty listening sessions around the country to develop recommendations to strengthen American democracy.
The report presents a sweeping and comprehensive proposal for reforms to how our country is governed. It offers thirty-one achievable recommendations aimed at political institutions, civil society, and civic culture. The Commission issued the report in the firm belief that significant change is not only necessary, but also possible, and the American Academy of Arts and Sciences is working to advance the recommendations to help reinvent American democracy for the twenty-first century.
 
Our Common Purpose Recommendations
 
Strategy 1:

Achieve Equality of Voice and Representation


 
1.1  Enlarge the House of Representatives.
1.2  Introduce ranked-choice voting in presidential, congressional, and state elections.
1.3  Give states the option to use multi-member districts.
1.4  Require independent citizen-redistricting commissions.
1.5  Amend the Constitution to authorize the regulation of election contributions.
1.6  Pass strong campaign-finance disclosure laws.
1.7  Pass "clean election laws."
1.8  Establish eighteen-year terms for Supreme Court justices.
 
Strategy 2:

Empower Voters


 
2.2  Change federal election day to Veterans Day.
2.3  Establish same-day registration and universal automatic voter registration.
2.4  Enable voting preregistration for sixteen- and seventeen-year-olds.
2.5  Establish that voting in federal elections be a requirement of citizenship.
2.6  Establish paid voter orientation.
2.7  Restore voting rights to citizens with felony convictions.
 
Strategy 3:

Ensure the Responsiveness of Government Institutions


 
3.1  Make public meetings more accessible.
3.2  Design mechanisms for members of Congress to interact with their constituents.
3.3  Promote experimentation with citizens' assemblies.
3.4  Increase participatory governance.
 
Strategy 4:

Dramatically Expand Civic Bridging Capacity


 
4.1  Establish a National Trust for Civic Infrastructure.
Strategy 5:

Build Civic Information Architecture that Supports Common Purpose


 
5.1  Assess social media's civic value.
5.2  Reinvent the public functions that social media have displaced.
5.3  Establish a public-interest mandate for for-profit social media platforms.
5.4  Require of digital platform companies: interoperability, data portability, and data openness.
5.5  Improve data on democratic engagement.
 
Strategy 6:

Inspire a Culture of Commitment to American Constitutional Democracy and One Another


 
6.1  Establish a universal expectation of a year of national service.
6.2  Engage communities in conversations about the complex American story.
6.3  Develop civic faith.
6.4  Promote our common purpose.
6.5  Invest in civic educators and civic education.