IV-05c: Sources of State Humanities Council Funding, Fiscal Year 2014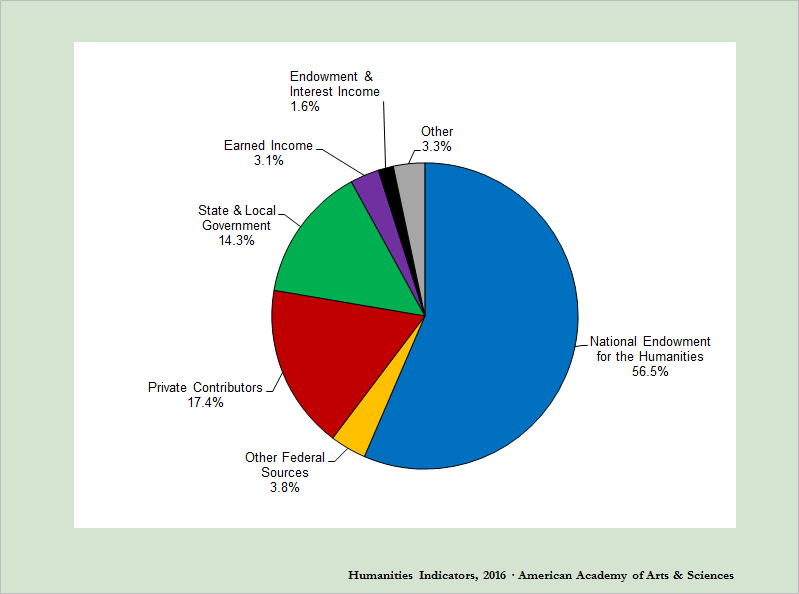 * Excludes revenues of the territorial/jurisdictional councils of American Samoa, Guam, the Northern Mariana Islands, Puerto Rico, and the Virgin Islands because complete data were not available for these areas.

Source: Federation of State Humanities Councils, 2014 Income Survey.
The National Endowment for the Humanities (NEH) provides each of the state humanities councils with an annual supporting grant through its Federal/State Partnership program. The funds are allocated according to a legislatively mandated formula, which directs $200,000 to every council, with the remainder of the appropriated monies being distributed in the following manner:
44% is allocated equally among councils that serve a population of 200,000 or more;
22% is allocated to all councils according to population; and
34% is allocated to councils according to the wishes of the NEH chairperson.
Councils also receive discretionary (nonformula) funding from the NEH. In addition, councils receive funding from the NEH in the form of matching grants and are eligible to apply for funding under the NEH's competitive grant programs.
Back to Humanities Indicators