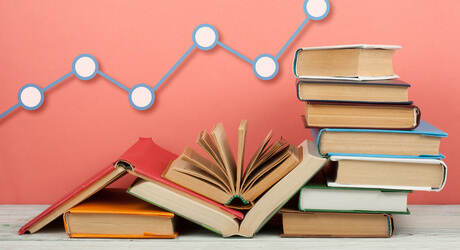 The Humanities Indicators is a nationally recognized source of nonpartisan information on the state of the humanities, providing researchers and policy-makers with better tools to answer basic questions about areas of concern in the field.
Overview
To address a need for statistical data in the humanities, the Academy, in collaboration with humanities institutions and leaders throughout the country, developed a set of reliable, comprehensive, and consistently updated statistical data necessary to chart trends and draw conclusions, including a standard definition for the humanities. The Humanities Indicators cover five categories: 1) primary and secondary education; 2) undergraduate and graduate education; 3) humanities research and funding; 4) the humanities workforce; and 5) the humanities in American life.
The Indicators data are drawn from existing sources and the project is also generating new data through surveys of colleges and universities, the humanities in American life survey, and a National Inventory of Humanities Organizations. The Humanities Indicators are designed to equip researchers and policymakers, universities, foundations, museums, libraries, humanities councils, and other public institutions with better statistical tools to answer basic questions about the state of the humanities.
People
People
Co-Principal Investigators
National Opinion Research Center
Jack Buckley
American Institutes for Research
American Council of Learned Societies
John Dichtl
American Association for State and Local History
Felice J. Levine
American Educational Research Association
Phoebe Stein
Federation of State Humanities Councils
Program Officer for the Humanities Indicators
Program Director for Humanities, Arts, and Culture
Project Outcomes
Project Outcomes
The Humanities Indicators project releases frequent data updates throughout the year pushed to subscribers and periodic publications that package interesting data that responds to questions and concerns in the field, or support other Academy projects.
The Humanities Indicators staff serve as a resource for college administrators, policymakers, and the media, answering questions about the trends, and occasionally providing data runs tailored to their specific needs.
The ongoing media references to the Humanities Indicators demonstrate that they continue to be a valuable resource for informing the public and stimulating debate about trends in the humanities. From 2014-2018 the Indicators were cited over 400 times in the press. Recent coverage has included The Hill, Inside Higher Ed, NBC News, The Washington Post, The Chronicle of Higher Education, WBUR, The Atlantic, The Guardian, The Jerusalem Post, and BBC. 
The recent Humanities Indicators report, The State of the Humanities 2018: Graduates in the Workforce & Beyond, was downloaded by over 10,000 unique users.
Project Information
The Humanities Indicators are funded by the Andrew W. Mellon Foundation. The project was developed with generous support from the National Endowment for the Humanities; Elihu Rose and the Madison Charitable Fund; John P. Birkelund; Peck Stackpoole Foundation; Rockefeller Foundation; Sara Lee Foundation; Teagle Foundation; Walter B. Hewlett and the William R. Hewlett Trust; and William and Flora Hewlett Foundation.
Any views, findings, conclusions, or recommendations expressed in this website do not necessarily represent those of the funders.