One of the recurring questions the Humanities Indicators receives concerns the extent to which students are engaging with the humanities as undergraduates—a subject for which there is precious little data. The best available information comes from an occasional survey of college graduates (the Baccalaureate and Beyond Longitudinal Study), which includes a painstaking review of the college transcripts of a nationally representative sample of college graduates. The most recent study covered 2008 graduates and offers a detailed picture of the number and types of courses students attempt and complete, and how course-taking differs between the majors.
Median Number of College Credits Earned by 2008 Graduates in Humanities and STEM Subjects, by Student Major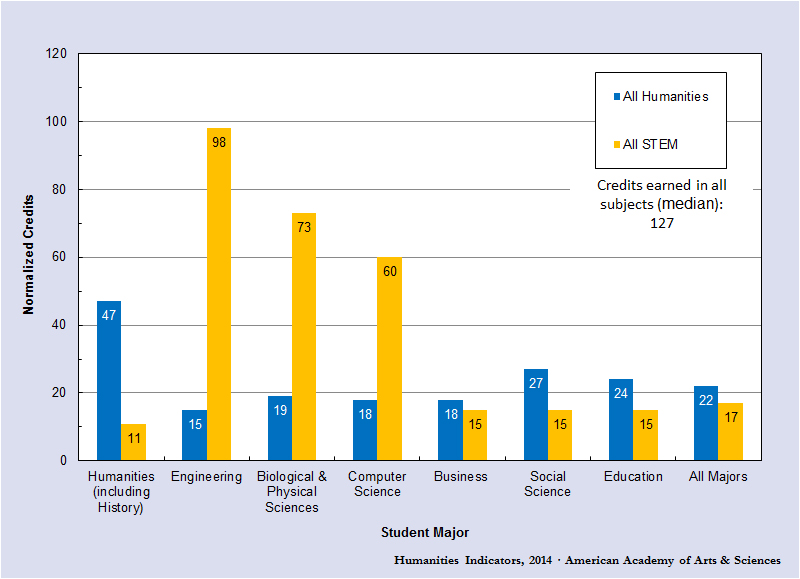 Our tabulation highlights some of the variations between the fields of student majors:
Students who received undergraduate degrees in 2008 earned more credits in humanities subjects than in STEM. Humanities credits represented approximately 17% of the total credits earned by the typical graduate, while the STEM share was 13%.

Approximately 37% of credits earned by humanities majors were for humanities courses.

Both in terms of absolute numbers and share of all courses taken, engineering students earned the fewest humanities credits (11% of median number earned by these students in all subjects) while social scientists earned the most (equaling 22% of all credits).

Humanities majors tended to earn fewer STEM credits than STEM majors earned humanities credits.
Commentary
Our commenters on these findings are Norman M. Bradburn, professor emeritus and former provost at the University of Chicago, as well as co-principal investigator of the Academy's Humanities Indicators project; and John G. Hildebrand, Regents Professor of Neuroscience at the University of Arizona and coeditor of the Academy's report Science and the Educated American: A Core Component of Liberal Education (available both in PDF and in print).
Read Norman M. Bradburn's essay, Who Takes Humanities Courses in College?
Read John G. Hildebrand's essay, Toward Breadth in Baccalaureate Education