Back to publications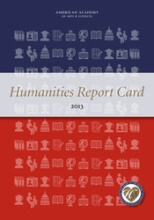 American Academy of Arts & Sciences
The humanities—including the study of languages, literature, history, jurisprudence, philosophy, comparative religion, and ethics—are disciplines of memory and imagination, telling us where we have been and helping us envision where we are going.
They provide the knowledge, skills, and understanding we need to thrive in a twenty-first-century democracy. They equip us for leadership in an interconnected world and help foster a society that is innovative, competitive, and strong.
How are they faring? This report card provides a snapshot of where the humanities are today—their value to American society, their continuing vitality, and at the same time, the many challenges they currently face.