One of the Academy's longest-standing traditions is the writing of letters accepting election to membership. Since 1781, the Academy has received communications in a variety of formats. From quill pens to emojis, the letters have evolved through the years, and provide perspectives as wide as our membership.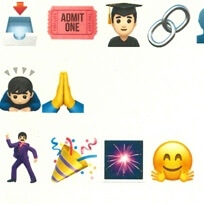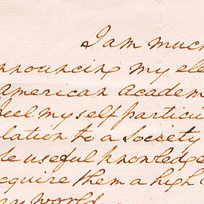 The Academy Archives preserves member letters and lines the walls of the Academy's headquarters in Cambridge with them, some of which are now available online:
Selections from the Academy's early years include letters from George Washington (1781), Alexander Hamilton (1791), and Maria Mitchell (1848).
For Women's History Month, the Academy offers letters from women, including Willa Cather (1943), Marian Anderson (1954), and Mary Leakey (1979).
In honor of those elected in 2020, the Academy presents recent letters, including ones from Nelson Mandela (2009), Nicholas Kristof (2017), and the poet Jane Hirshfield (2019) who wrote "I've been thinking . . . about honor, that it must reside somewhere midway between art and science. Set into our neurobiology by evolution, honor is also, like a work of art, unquantifiable, subjective—not object but qualia."