Rumford Family Collection Conserved and Digitized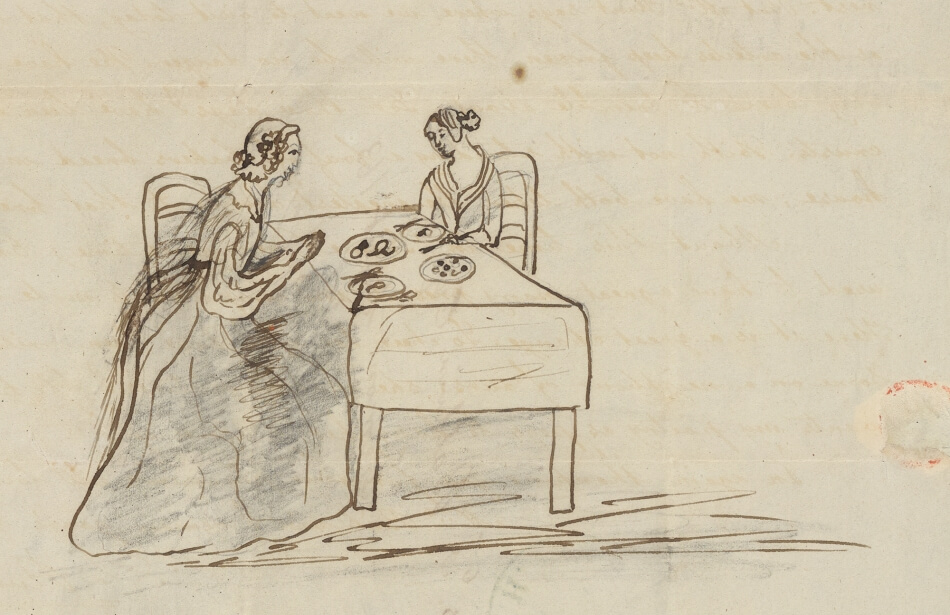 By Michele Lavoie, Director of Archives at the Academy
 
Over the past eighteen months, the Academy has partnered with the Northeast Document Conservation Center to repair, clean, and digitize six bound volumes of letters and other documents related to early Academy member and donor Benjamin Thompson (Count Rumford) and his daughter, Sarah.1
After the materials were returned to the Academy, the Archives staff reviewed the collection and created an inventory of the documents.2 That inventory includes links to more than 1,800 digital images of items in the collection.
Most of the letters from Sarah Rumford to James Fowle Baldwin, her friend and estate manager, relate to the management of her financial affairs. However, occasional bits of gossip or political observation appear in the correspondence as well as some of Sarah's amateur poetry. Letters containing the latter often include sketches by her ward, Emma Gannell (later Burgum), that may illustrate an item referenced within the document.
A quaint family dinner, as described to Baldwin in a letter from Sarah dated January 7, 1846, provided the subject for one such sketch. Earlier in the letter, Sarah had complained about not being able to avail herself of cooking services. In an accompanying image, Emma has depicted herself and her aunt at table, enjoying the last of a fresh ham that the young woman purchased and prepared as a surprise. Sarah included a short poem to record her reaction:
T'is very good, I do declare!
Ham delicious, potatoes cooked well
A like dish no mean fare
For you on album a thing to tell.
Endnotes