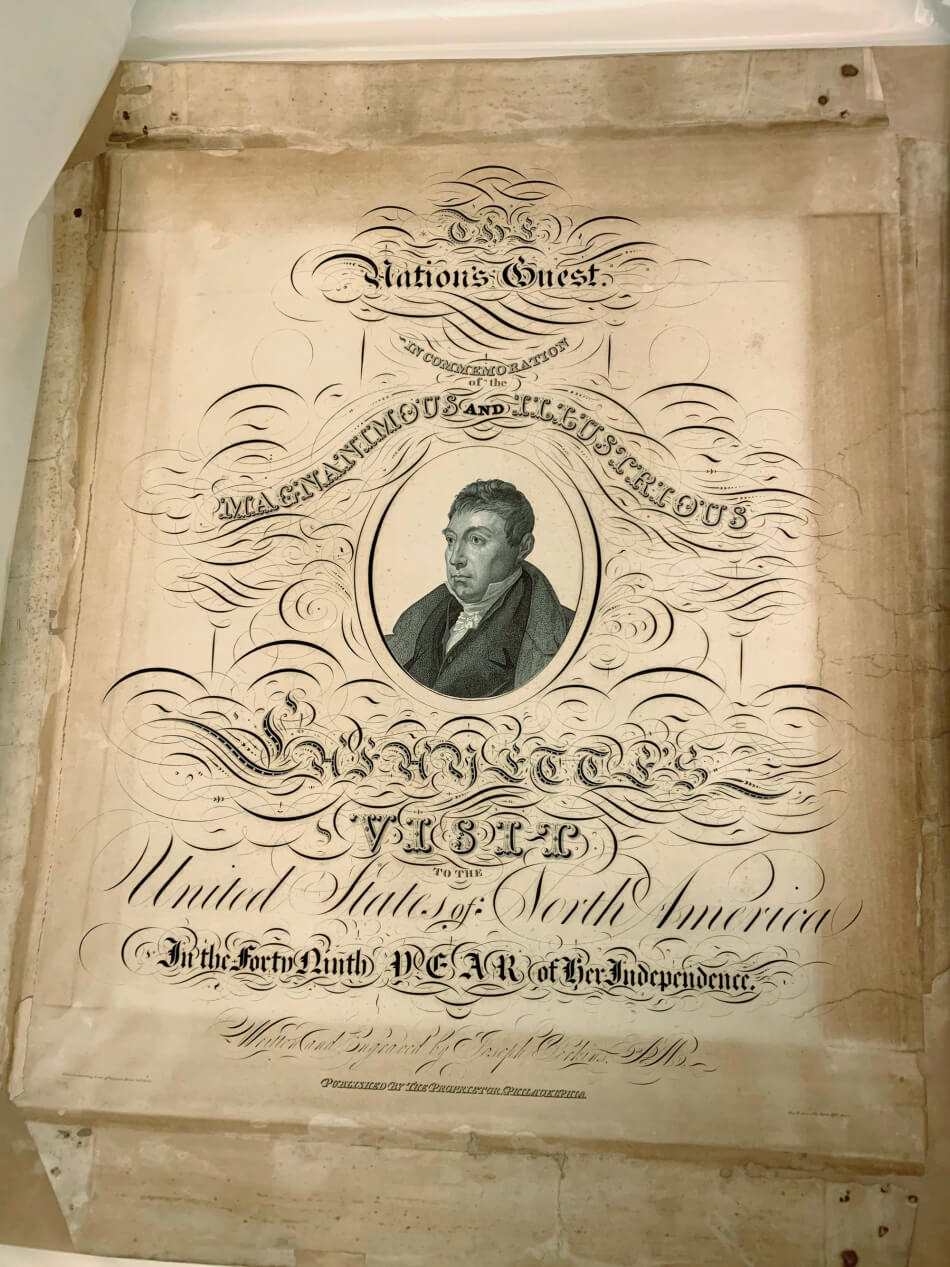 By Maggie Boyd, Associate Archivist at the Academy
Discoveries are often amazing moments in archival work. In 2010, the Academy's archivists sent several pieces of artwork, part of the Academy's Special Collections, to an art restorer for treatment.
One of these items was a mezzotint of astronomer and Academy member Francis Baily (1774–1844; elected to the Academy in 1832) by Thomas Lupton (1791–1873), date unknown, donated to the Academy by Rev. R. Sheepshanks between 1847 and 1848. The mezzotint needed to be removed from its wooden frame so that it could be cleaned and flattened for continued preservation. During conservation, the art restorer discovered that a piece of paper used as backing was, in fact, a broadside. The document had been well preserved except for where it had pressed against the wooden frame and become discolored.
This discovery is made more noteworthy by the fact that the broadside commemorates the return to the United States of Gilbert du Motier, the Marquis de La Fayette (1757–1834; elected a Foreign Honorary Member of the Academy in 1785). From 1824 to 1825, La Fayette and his son Georges Washington made a grand tour of the young republic, visiting every state. An eager public purchased the commemorative items produced at the time, as La Fayette was one of the last living heroes of the Revolutionary War.
The broadside – titled "Our Nation's Guest" and engraved in 1825 by Joseph Perkins (1788–1842) – features a portrait of the general and the script: "In commemoration of the magnanimous and illustrious Lafayette's visit to the United States of North America in the forty-ninth year of her independence."