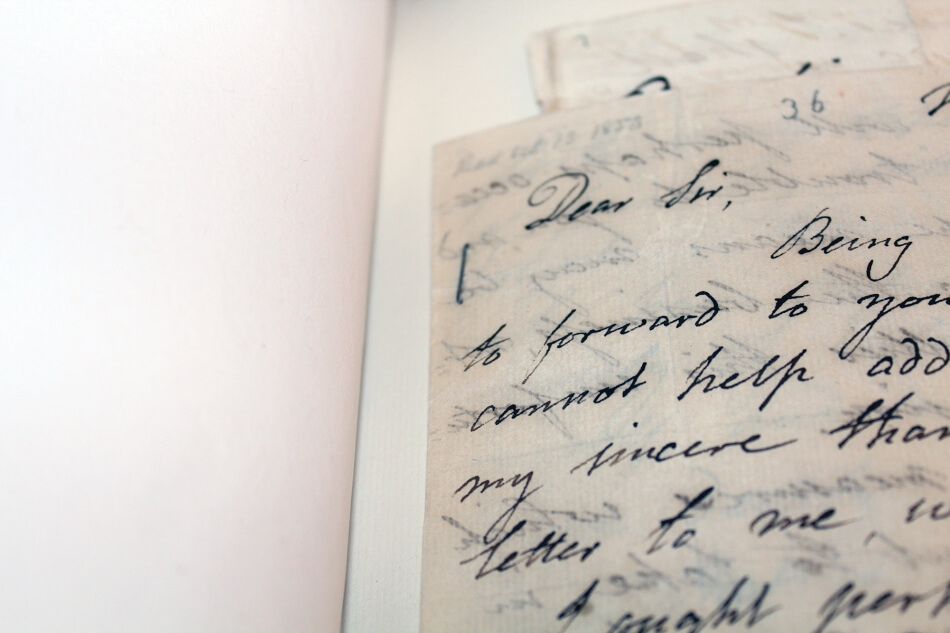 The Academy's Special Collections include materials related to the family life of Benjamin Thompson, Count Rumford, an American-born thermodynamic physicist, military officer, and inventor. Elected a Foreign Honorary Member in 1791, Rumford donated $5,000 in stock to the Academy, which later formed the basis of the prize that bears his name.
The Rumford Family Collection consists of six volumes of letterbooks dating from 1775–1870 (with the majority from 1844–1854). Most of the materials are correspondence from Sarah Thompson, Countess Rumford, to James Fowle Baldwin. The letters concern her international and financial affairs (such as the Bavarian pension she was entitled to through her father) and the management of her estate in Concord. Her letters are a blend of personal and professional reflections, as Baldwin was both a primary business associate and a lifelong friend. In addition to Thompson's letters, the collection includes lists of Thompson's expenses that Baldwin compiled, as well as a few documents related to her father, Count Rumford.
When the letterbooks were assembled in the mid-twentieth century, the original manuscripts were affixed to the ledgers' pages with a variety of adhesives, and some even include metal staples and pins. Many pages feature multiple documents layered on top of one another, making the volumes difficult to use.
The Academy has been fortunate to procure support for the conservation of these materials. The documents will be removed from the support pages, cleaned, and rehoused in archival folders and boxes. Tears will be mended, and folded pages will be flattened. The collection will also be digitized, allowing the material to be accessed online.