Higher education continues to be one of the most important avenues of opportunity in American society. But the education landscape is changing rapidly: there are more options for how and when Americans receive some form of higher education. New populations, for whom the traditional four-year degree was once an impossibility, can now pursue undergraduate education in two-year, four-year, for-profit, and online institutions, according to schedules that fit their own lives. And technological advances offer new approaches to student instruction and collaboration. At the same time, rising costs are challenging the affordability of traditional postsecondary degrees.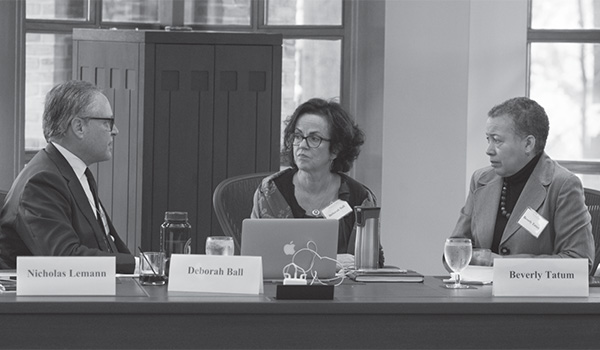 Nicholas Lemann (Columbia University Graduate School of Journalism), Deborah Ball (University of Michigan School of Education), and Beverly Tatum (Spelman College)
To address these topics and provide ideas for ensuring that individual Americans receive the education they need to thrive in the twenty-first century, the American Academy has established the Commission on the Future of Undergraduate Education, funded by Carnegie Corporation of New York. Over the next three years, members of this initiative will examine the vast – and expanding – array of learning options available to high-school graduates, including students newly out of high school and older adults returning to school to further their lives and careers. With members drawn from among national leaders in education, business, and government, the Commission will study how well today's students are served by the existing system and, more important, will seek to identify the challenges and opportunities that higher education will encounter in the decades ahead. Michael S. McPherson (Spencer Foundation) and Roger W. Ferguson, Jr. (TIAA-CREF) are the co-chairs of this project.
At the Commission's first meeting on November 20, 2015, at the House of the Academy in Cambridge, the members discussed the issues they would like the Commission to address and what challenges they believed the project needs to meet in order to be successful. The conversation led to a series of ambitious and thought-provoking observations: how, for example, can we say who is being served well by higher education without getting more clarity about what a higher education is supposed to accomplish? While there is a great deal of attention paid to the outcomes of college, there is much less public attention to the process of college education itself – how does learning come about for students, and how do educational experiences in and out of the classroom shape those results? Commissioners noted that historically an important purpose of higher education has been to help form good citizens and foster social progress, and in a society like ours that remains deeply divided on fundamental matters including race, economic inequality, and the global phenomenon of climate change, this purpose remains important and must be addressed.
Another theme raised at the meeting was that, after the expansion of opportunity brought about by the introduction of federal student aid grants and loans in the 1970s, the ranks of college students expanded to include a significant number of adult students over the age of 24. These adult students consistently make up roughly a third of the undergraduate population. Their education goals and the obstacles in accomplishing them tend to differ substantially from those of recent high-school graduates. In addition, the Commissioners raised issues of cost and affordability.
With these questions and challenges in mind, the Commission is beginning to develop a data-rich portrait of American postsecondary education. This primer will convey the story of the major themes and trends in undergraduate education through the framework of the contemporary student journey into, through, and out of college. Scheduled for release later this year, the primer will serve both as a foundation for the Commission's larger work and as a valuable resource for a broad public audience.