WILLIAMSBURG, VA | NOVEMBER 12, 2014 – The 2014 Arts & Sciences Advocacy Award, presented annually by the Council of Colleges of Arts and Sciences (CCAS), belongs this year to the American Academy of Arts & Sciences, based in Cambridge, Massachusetts. The ceremony took place at the 49th Annual Meeting of the CCAS in San Antonio, Texas.

The CCAS Arts & Sciences Advocacy Award honors an individual or organization demonstrating exemplary advocacy for the arts and sciences, flowing from a deep commitment to the intrinsic worth of liberal arts education.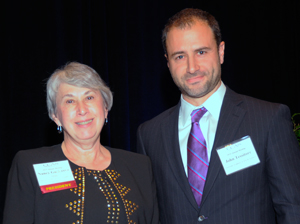 Program Director John Tessitore accepted the award on behalf of the American Academy. In presenting the award, CCAS President Nancy A. Gutierrez, dean of the College of Liberal Arts & Sciences at the University of North Carolina at Charlotte, announced that CCAS was honoring it for issuing The Heart of the Matter: The Humanities and Social Sciences for a vibrant, competitive, and secure nation (2013) and for its long-standing commitment to recognizing outstanding scholars and for working to address critical challenges facing our global society. Gutierrez said further that with the issuance of this report and other initiatives such as the Humanities Indicators project, "the American Academy has launched national conversations, international projects, and agendas for universities throughout the country."

In accepting the award before an audience of more than 500 college and university deans from across the country, Tessitore thanked the Council for the recognition on behalf of the Academy and the Chair of the Board, Don M. Randel. Tessitore noted that the Academy has been gratified by the overwhelming response to The Heart of the Matter. He told the assembly that the Academy "is committed to the recommendations in the report and to other related initiatives for the long haul," and that it welcomes the continued involvement of CCAS deans.

CCAS is the largest association of arts and sciences deans, with 1700 members at over 500 baccalaureate-granting institutions in the US, Canada, and other countries. CCAS is headquartered at The College of William & Mary in Williamsburg, Virginia.