Following an enthusiastic reception of the 2013 Humanities Commission Report, the American Academy received a congressional charge to extend the portion relating to language education. This bipartisan charge revealed concerns about the deleterious effects of the current state of the nation's language capability on political, economic, and social prosperity. The congressional letter encouraged a broad examination of the issue, one that addresses concerns about the personal fulfillment of all Americans and the well-being of future generations, in addition to evaluating needs for critical global challenges.
On December 15, 2015, the Language Commission convened its first meeting at the Academy's headquarters in Cambridge, MA, under the leadership of Paul LeClerc. Dr. LeClerc, former president of the New York Public Library, is Director of Columbia Global Centers, Europe and the Networking Chair. Other members of the Commission include prominent linguists and scholars of languages, representatives of the U.S. Departments of State and Defense, experts in language-acquisition technology, corporate and legal experts, and leading advocates from the American Councils for International Education, the Modern Language Association, and the American Council on the Teaching of Foreign Languages.
Academy President Jonathan Fanton opened the meeting by citing an early Academy document from 1781, which demonstrated America's long-standing concerns and commitment to language education. He went on to frame the context of the current meeting in terms of a late-nineteenth-century initiative, namely Henry W. Williams's call "to remove every impediment to a ready intercourse and move forward every facility for the acquisition and distribution of whatever knowledge conduces to the common good." Dr. Fanton asked the Commission to explore what such an enterprise would mean for a global community rich in ideas, but rife with political and linguistic divides.
Initial discussion focused on the findings of five briefing papers. These findings, along with the Commission's ensuing conversation, made it clear that although there are several studies that report on different portions of the language capability issue, no publication to date provides an overarching account of the entire state of the nation's language capabilities. The scope of this data, while impressively detailed, makes it difficult to form an overall picture of America's language needs. In response, the Language Commission decided to form a subcommittee on Research and Data, to collect all research findings into one short but comprehensive document about the teaching of languages in the United States.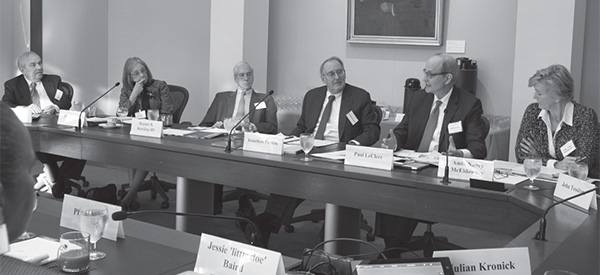 Mark Aronoff (Stony Brook University), Diane P. Wood (U.S. Court of Appeals, Seventh Circuit), Hunter R. Rawlings III (Association of American Universities), Jonathan F. Fanton (American Academy), Paul LeClerc (Columbia Global Centers, Europe), and Nancy McEldowney (Foreign Service Institute, U.S. Department of State)
The Commission also discussed that domestic and international needs in language training can often raise separate sets of issues. In an international context, America has reasons to emphasize the learning of languages like Arabic, Russian, or even Pashto. It could also follow in the footsteps of nations like Great Britain, which have discussed prioritizing the study of languages affiliated with emerging markets (e.g., Portuguese, Mandarin, Russian, and Hindi). Domestic issues, by contrast, raise concerns about insufficient interpreters within our health and legal systems, numerous indigenous American languages listed as endangered or critically endangered, and a growing body of psychological findings concluding that American children who are not taught in their native languages appear to be more vulnerable to depression and feelings of alienation later in life.
The Language Commission also decided that it cannot overlook the impact of technology in developing modern-day communication. In the age of artificial intelligence, technology will play a greater role in making language learning more accessible and also more integral for the international market. Already, the U.S. Department of State and other organizations use virtual reality as a means to teach critical languages. The Commission will investigate how technology affects language learning, particularly for purposes of international trade and research.