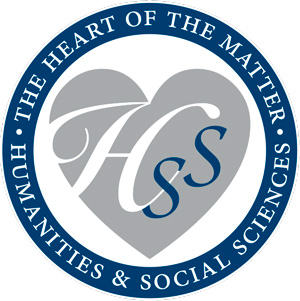 Released in June of 2013, The Heart of the Matter, the report of the American Academy's Commission on the Humanities and Social Sciences, has become an integral part of an ongoing national dialogue about the state of the humanities and social sciences in the United States.
The report lays out three main goals and thirteen recommendations for advancing the humanities and social sciences in America, focusing on creating an engaged and literate public; funding research and support for educators; and promoting language learning, area studies, and study-abroad programs to strengthen U.S. leadership in an increasingly interconnected world.
Since June, nearly 100,000 copies of the report have been distributed, and the executive summary has been translated into Spanish and Korean. A companion film – produced by the Ewers Brothers and featuring Ken Burns, Yo-Yo Ma, John Lithgow, and other members of the Commission – has received over 30,000 views. The film has been screened at faculty meetings and university outreach events, and at board meetings of state humanities councils and nonprofit foundations. In addition, the report has been featured in nearly 300 newspapers, podcasts, and television programs, including The New York Times, Psychology Today, The Guardian, National Public Radio, PBS, and The Colbert Report, opening doors for new collaborations.
Institutions of higher education have adopted parts of The Heart of the Matter for dozens of purposes – for local fundraising, curricular reform, and even community-building. Several colleges have made the report required reading for incoming students, and two universities – the University of South Carolina and Carnegie Mellon University – showed the companion film to incoming freshmen. Commission members Annette Gordon-Reed (Harvard University) and John Lithgow (Los Angeles, California) were invited speakers at the University of Maryland's Worldwise Arts & Humanities Dean's Lecture Series. Commission Cochair Richard Brodhead (Duke University), Congressman David Price, Commission member Karl Eikenberry (Stanford University), UNC President Thomas Ross, and NC State University Chancellor Randy Woodson discussed the report during a symposium at NC State University in March. Later in the spring, Commission members Norman Augustine (Lockheed Martin Corporation) and Hunter Rawlings (Association of American Universities) will speak at Carnegie Mellon University as part of CMU President Subra Suresh's inaugural presidential lecture series.

Commission member Karl W. Eikenberry, UNC President Thomas W. Ross, NC State University College of Humanities and Social Sciences Dean Jeffery P. Braden, Commission Cochair Richard H. Brodhead, and U.S. Representative David E. Price
Events in conversation with the report continue to take place all across the United States, including a series of forums cosponsored by the Federation of State Humanities Councils, the National Humanities Alliance, and the Institute of Museum and Library Services. Forums have been held with Commission members David Souter (Supreme Court of the United States) at the state library in Albany, New York, and Wayne Clough (Smithsonian Institution) at the University of West Georgia in Carrollton, Georgia, and events are planned for later this year in Kansas, Oklahoma, and Maine. Through these gatherings and dozens of other events around the country, scholars, leaders of academic and nonprofit institutions, and other members of the public are exchanging ideas for the practical implementation of the Commission's goals in local communities.
In partnership with the Chicago Humanities Festival and the Modern Language Association, the American Academy hosted the Chicago Humanities Summit on January 9, 2014, bringing humanists and social scientists from all over the United States to participate in a series of hands-on workshops on the public humanities. Commission Cochairs Richard Brodhead and John Rowe (Exelon Corporation) and Commission member Diane Wood (United States Court of Appeals, Seventh Circuit) opened the Summit. On the evening before the Summit, Karl Eikenberry, former U.S. Ambassador to Afghanistan and retired Lieutenant General of the U.S. Army, spoke to a group of Summit organizers and local Academy Fellows about the importance of language education and international studies for U.S. diplomatic interests and on-the-ground relationships with the citizens of other countries.
The Commission was convened in response to a request from a bipartisan group of legislators: Lamar Alexander (R-Tennessee), Mark Warner (D-Virginia), Tom Petri (R-Wisconsin), and David Price (D-North Carolina). Commission members continue to seek new ways to amplify their message and new forums to share their report. Learn more about the Commission, here.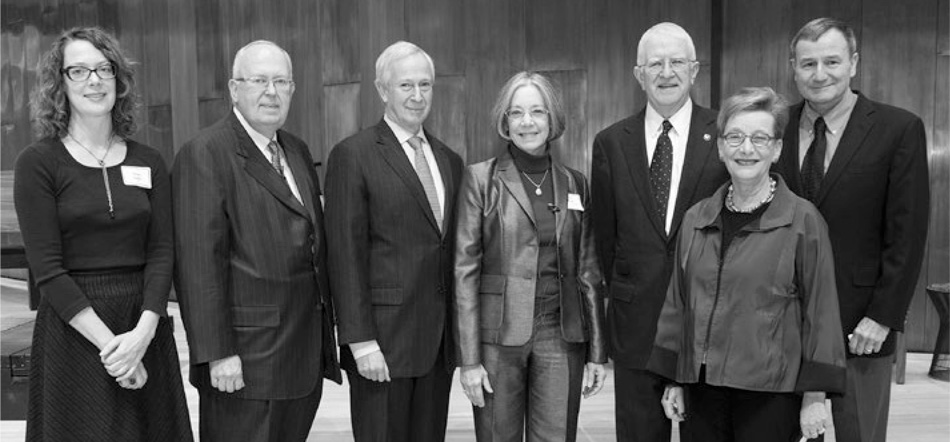 WBEZ reporter Alison Cuddy; Commission members John W. Rowe, Richard H. Brodhead, and Diane P. Wood; Chair of the Academy Board Don M. Randel; MLA President Marianne Hirsch; and Commission member Karl W. Eikenberry