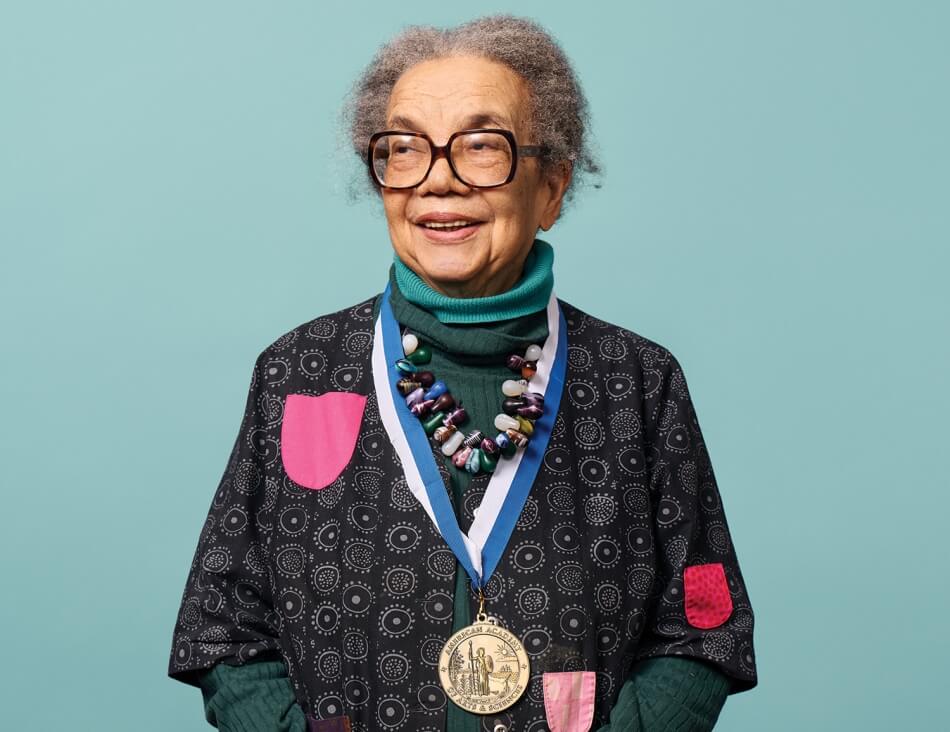 Marian Wright Edelman, a trailblazing attorney and civil rights leader, received the Academy's Award for Excellence in Public Policy and Public Affairs, which recognizes individuals for their distinction, independence, effectiveness, and work on behalf of the common good.
Mrs. Edelman is President Emerita of the Children's Defense Fund, the leading organization that advocates for the welfare, education, and rights of children in the United States.
In December 2022, Academy President David Oxtoby presented the award to Mrs. Edelman at the offices of the Children's Defense Fund.
Award Citation


 
Raised by your parents to serve and instilled with an obligation to take care of those who cannot take care of themselves, you have been a lifelong advocate for disadvantaged Americans. From an early age, you never accepted being "put into slots." You were the first Black woman admitted to the Mississippi Bar and directed the NAACP Legal Defense and Educational Fund office in Jackson. When you later moved to Washington, D.C., you served as counsel for the Poor People's Campaign that was organized by Dr. Martin Luther King Jr., founded the Washington Research Project, served as the Director of the Center for Law and Education at Harvard University, and began the Children's Defense Fund – all before the age thirty-five.
For nearly five decades as the leader and guiding force of the Children's Defense Fund, you have lived every day as if you were abiding by your father's simple advice: if you just follow the need, you will never lack for a purpose in life. In following the need to end child poverty, you have worked tirelessly to ensure every child a Healthy Start, a Head Start, a Fair Start, a Safe Start, and a Moral Start in life and a successful passage to adulthood with the help of caring families and communities.
You have often said that you feel fortunate to have lived at the intersection of great need and great injustices, and with great opportunities to change them. How fortunate for the millions of children and the nation that you have led the change for a more just society.
Child advocate, servant leader, moral compass, sometime rebel, and recipient of the Presidential Medal of Freedom, you exemplify the Academy's values of using evidence and knowledge to foster deliberative discourse in advancing the common good. And you inspire us with your relentless dedication, determination, good will, and passion for making the world better and safer for generations to come.