Elected to the Academy in 1992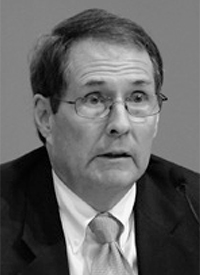 It is with profound sadness that I note that John Steinbruner, a longtime member of the Academy and cochair of the Academy's Committee on International and Security Studies since 2000, died of cancer in Washington, D.C., on April 16, 2015. He is survived by his wife Cris Gobin, his sons David and Greg, and his stepdaughter Gretchen.
John Steinbruner's remarkable life was full of remarkable achievements. He was an intellectual giant from the earliest age, publishing a path-breaking book about the psychology of decision-making – The Cybernetic Theory of Decision – not long after completing his doctorate at MIT. He became an Assistant Professor of Government at Harvard in 1969, served as Associate Professor of Public Policy at the John F. Kennedy School of Government at Harvard from 1973 to 1976, and then was granted tenure at Yale and was an Associate Professor in the School of Organization and Management and in the Department of Political Science. He left that position in 1978 to become the Director of the Foreign Policy Studies Program at the Brookings Institution – all before he turned 40. From 1996 until his death, he was Professor of Public Policy at the School of Public Policy at the University of Maryland and Director of the Center for International and Security Studies at Maryland.
He was a brilliant scholar and widely published author, whose multidisciplinary expertise spanned from climate change to biological weapons to civil discord and nuclear operations. He served on influential advisory committees, including the Pentagon's Defense Policy Board, and guided innumerable studies for the National Academy of Sciences, the intelligence community, and other government agencies. He inspired two individuals who each went on to become the Secretary of Defense of the United States, and who joined him in articulating innovative precepts for post–Cold War security that became the underpinning for decades of U.S.-Russian nuclear cooperation. And he was a highly successful institution builder, widely respected by foundation leaders for his intellectual clarity and near-prophetic understanding of twenty-first-century global security trends.
John was a deeply private man who led a hugely public life. Even people who thought they knew him well have expressed astonishment at the range and diversity of individuals who considered him their intellectual and spiritual anchor. His friends were many and varied – a Supreme Court justice, a Benedictine abbot, prominent Russian scientists, a group of Catholic Bishops (twelve of whom travelled to Qom under his guidance in 2014 to talk to Iranian clerics about nuclear security), and many dozens of senior policy-makers from around the world. But his circle somehow always included younger people just starting their careers, whom he took under his wing and mentored generously. Those of us who were lucky enough to fall into his orbit will always feel an incalculable debt, not just for his help in transforming our inchoate ideas into refined research concepts (and then tactfully pretending that this was what we had always meant to say – he was famous for that) but for instilling a sense of values and higher purpose that we might never have had the courage to espouse without his encouragement. John's success granted him access to the highest levels of academia and policy-making but for him this was never the goal. He genuinely believed in the perfectibility of human beings – and of society – if only given the right tools and opportunity.
John had known for a decade that he had an incurable disease. He endured repeated episodes of experimental treatments that sometimes required long periods of hospitalization, each time returning to his many professional responsibilities as if he had just been on vacation. When asked how he was doing, he would respond that his tennis game was slightly off or that his hair (which, to the consternation of his grey-haired sons, always came back black) was growing too slowly. As was true in all areas of his extraordinary life, John managed to achieve near bionic status with his doctors – always engaged and informed, determined to beat the odds (which he had analyzed carefully), and working hard to reassure the medical staff that their efforts were not in vain.
It would not surprise anyone who knew John that he spent many hours of his final days calling students and close colleagues – including Academy President Jonathan Fanton – to express regret about the circumstances that would prevent him from fulfilling his commitments. As the news of John's illness spread across Washington, D.C., and beyond, the reaction it provoked was unusual for the world of power and policy. It is, perhaps, best described as love. John's far-reaching and stellar intellectual legacy and his unflinching efforts to advance transformational concepts of global security will surely endure; but it will be more than equaled by the bedrock of loyalty and affection he inspired in so many – an all too rare and precious gift.
Janne E. Nolan
Research Professor, Elliott School of International Affairs,
George Washington University