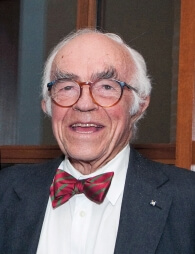 Louis W. Cabot, Chair Emeritus and an active member of the Academy for 63 years, passed away on January 29, 2021, at age 99. He served as Chair of the Board (2010–2013), Chair and founding member of the Academy Trust (2002–2013), and Vice President (2001–2010), as well as a member of numerous governance committees, including the Finance, Development, Investment, and Audit Committees. He is remembered by all who worked with him for his wisdom, boundless energy, skill in running meetings, generosity, optimism, and hearty good cheer.
Perhaps the most noteworthy of his many contributions to the Academy was his role in shepherding the institution through a decade of growth and change, in which ever greater emphasis was placed on studies undertaken by groups of Fellows on matters of societal and intellectual importance. He emphasized the significance of this work in a contribution to the Bulletin in 2009:
We live in difficult times but, perhaps, no more difficult than the revolutionary moment when the Academy was founded, when the leaders and citizens of the new republic faced profound political and economic ordeals. Since then, problems have always been with us – poverty, social strife, corruption – but we keep working with optimism and hope, buoyed by the strength of our collective vision, energy, and commitment. The Academy is a place of optimism and hope, an organization where the quest for knowledge, so vital to the human spirit, is celebrated and supported, where evidence and reasoned arguments stand in opposition to the forces of oversimplification and fear. There is great inspiration in our purpose . . . .
He underscored that "[b]ecoming a Fellow is an honor that draws much of its power from the rich legacy of our past, but this honor also comes with a responsibility to serve the public good. I cannot stress enough the importance of this purpose and the satisfaction that follows from being actively involved."
He strongly supported the expansion of the Academy's efforts to undertake a diverse suite of projects to define the means to resolve society's many difficult and most harrowing problems.
Louis was only the most recent member of his Boston Brahmin family to have a close association with the Academy. When he was elected a Fellow in 1958, both his father and his grandfather were members. In fact, he determined that at least 23 members of the Cabot family are included among our Fellows. The earliest Cabot to be elected to the Academy was George Cabot in 1788, a brother of Louis's great-great-great grandfather. Louis was not even the first Louis Cabot to be elected; the first was an architect and Civil War veteran elected in 1891. Louis could trace his lineage to Jonathan Jackson, a successful merchant and public official, who was one of the founding members of the Academy.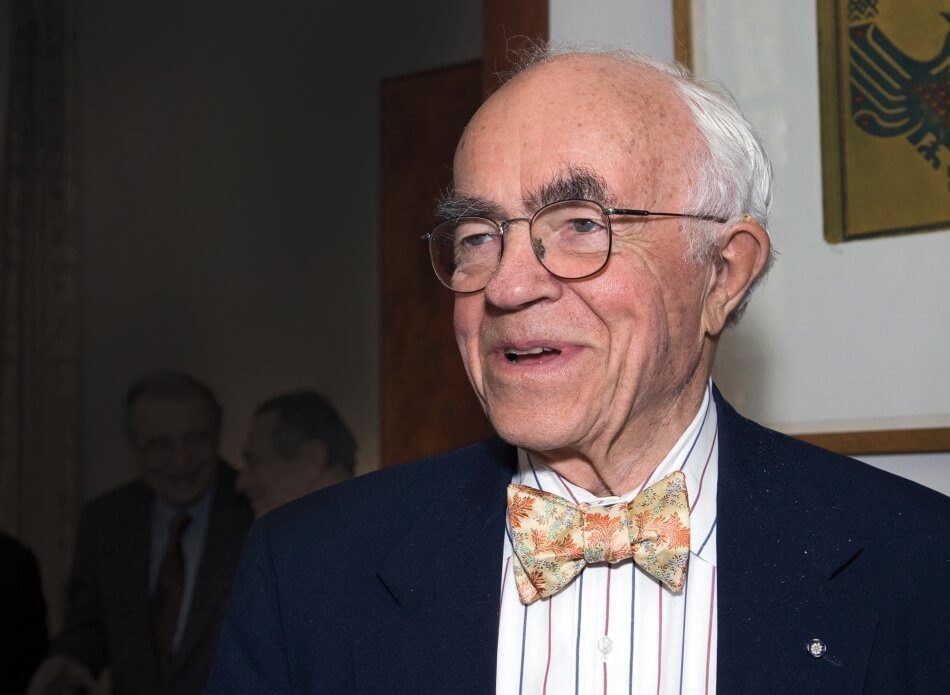 "Becoming a Fellow is an honor that draws much of its power from the rich legacy of our past, but this honor also comes with a responsibility to serve the public good."
 
Louis was a graduate of Harvard College (1943) and Harvard Business School (1948). He then went to work in his family's business as a laborer in a carbon black plant in Texas. He eventually rose to become president of the Cabot Corporation at age 39. He quipped that "selecting the right grandparents probably helped me get the job." During his years with the company, its annual sales increased from $27 million to $1.4 billion. He stepped down as chairman in 1986, and then embarked on a full-time career of public service. In accepting the Harvard Business School's Business Statesman Award in 1966, he noted that "[m]aking money as an end in itself is a fault, not a virtue." His many outside activities show that he lived by this realization.
In addition to his extensive involvement with the Academy, he served as Chair of the Brookings Institution, the Federal Reserve Bank of Boston, and the President's Circle of the National Academy of Sciences; life member of the MIT Corporation; member of the Harvard Board of Overseers; a trustee of Conservation International, the Woods Hole Oceanographic Institution, Northeastern University, Carnegie Corporation of New York, and the Maine Island Institute; and as a member of the board of several major companies. He lived a full life in recent years at his home in Tenants Harbor, Maine, excelling as a graceful skier, life-long sailor who loved cruising the Maine coast, and skilled photographer.
In 2006, Louis was awarded the Scholar-Patriot Award, the third recipient of this award in the Academy's history, in recognition of his extraordinary service. The citation noted:
With characteristic determination, directness of speech, and "carbon black" strength of purpose, you have pursued your protean interests throughout a vigorous life in industry, public service, and philanthropy. You have filled the Academy's sails with your zeal to propel it on its historic mission and to orient this 225-year-young society in new, ever more challenging seas. We honor your unflinching commitment to society, to the nation, and to the ideals of the Academy.      
His passing leaves a hole in our fellowship.
Richard A. Meserve
President Emeritus
Carnegie Institution for Science