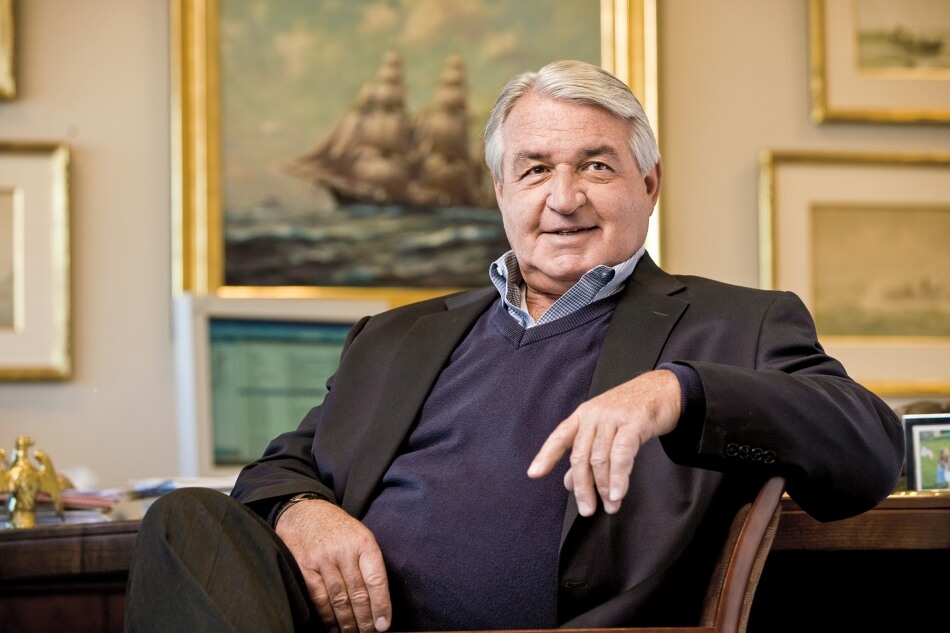 Peter Michael Nicholas, elected to the American Academy of Arts and Sciences in 1999, died two days before his 81st birthday at his home in Boca Grande, Florida. Pete had been Cofounder, CEO, and Chairman of Boston Scientific, a medical device company. He was an important benefactor of both the American Academy and Duke University, where the Nicholas School of the Environment and the Nicholas Institute for Environmental Policy Solutions were named in his honor.
Pete was born in Portsmouth, New Hampshire, to parents who had emigrated from Greece. He graduated from St. Paul's School in Concord, New Hampshire, planning to follow his father's path by attending the U.S. Naval Academy until he was disqualified due to his eyesight. Instead, he entered Duke University, beginning a lifelong relationship that included service as Chair of the Board of Trustees, among other committee, campaign, and board roles, and culminated with the awarding of the 2021 University Medal – Duke's highest honor for service. Upon graduation from Duke, Pete spent two years serving in the Navy and then earned his MBA from the Wharton School of Business at the University of Pennsylvania. He received the Joseph Wharton Lifetime Achievement Award in 2020.
In addition to his college education and many subsequent accolades, Duke gave Pete his life partner, Vir­ginia (Ginny) Lilly Nicholas, whom he married shortly after their graduation in 1964. Ginny is the great-granddaughter of Eli Lilly, who founded the eponymous pharmaceutical company. Although it had not been his original plan, family connections led Pete to an interest in health care. He spent a decade working at Lilly, rising to the position of general manager for Europe. He was open to new opportunities when he met John Abele, a neighbor with a shared interest in medical devices. Together they founded Boston Scientific and built one of the leading medical device companies in the United States.
Dr. Fred Lovejoy, another neighbor and longtime friend, remarked, "Peter, his wife Ginny, and their two sons and daughter resided for 35 years in Concord, Massachusetts. He lived out his family life true to his beliefs, with deep commitment and caring for his family, abiding loyalty to close friends, and great generosity in time and devotion to the institutions that he served so well. He will be sorely missed by so many in Concord."
Pete was elected to the American Academy of Arts and Sciences in 1999 and became active soon afterwards. He served on the Committee on Investments from 2002–2010. He was a founding member of the Academy Trust in 2002, serving as Cochair from 2005–2010 and continuing as a member until 2016. At the Academy's 225th Anniversary Special Program in April 2005, his remarks captured the essence of what the Academy aspires to do:
". . . [W]hat is particularly exciting about the Academy is its ability to adapt its historic mission to ensure that we remain a vital resource for contemporary society. The Academy's success is due to its capacity to use its traditions imaginatively, while always promoting constructive change."
Pete generously supported the Academy's work with his time, intellect, and philanthropy. In addition, in September 2012, Pete loaned to the Academy an oil on canvas portrait of George Washington by Rembrandt Peale (1778–1860). The piece was installed in the hearth area of the atrium at the House of the Academy, where it remains on display. The original five-year loan was extended in 2017, and again in 2022. The portrait reminds Academy members of our organization's history and also of our great friend, Pete Nicholas.
In addition to his wife Ginny, Pete leaves three children, who also hold Duke degrees – Katherine, Peter Jr., and J.K. – and seven grandchildren.
Nancy C. Andrews
Chair of the Academy's Board of Directors;
Executive Vice President and Chief Scientific Officer of Boston Children's Hospital