A new publication from the Academy, released in January 2015, features selected materials from the Academy's Archives. Published to celebrate the 235th anniversary of the institution's founding in 1780, Advancing Knowledge reflects the rich intellectual history of the Academy and the nation.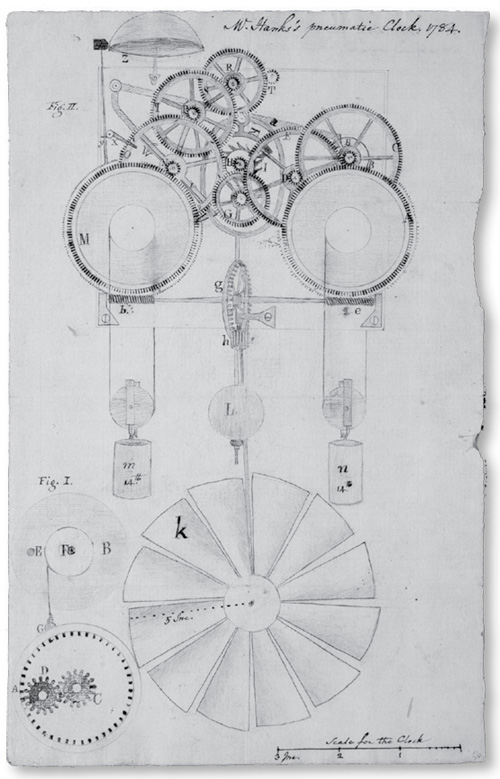 Illustration for a pneumatic clock by Benjamin Hanks, July 1, 1784 (Advancing Knowledge, p. 70)
The volume, which combines color images with transcriptions and historical vignettes, showcases letters of acceptance written by Academy members George Washington, Alexander Hamilton, Charles Darwin, Albert Einstein, Willa Cather, Robert Frost, and Mary Leakey, among others; communications submitted to the Academy on topics ranging from human flight to rare medical cases; and historical documents that illustrate the inner workings of the organization in its early years.
As Bernard Bailyn notes in his introduction to the publication:
One does not usually think of documents dug up from an academy's archives as likely to be particularly interesting, but these records, selected by the Academy's Archives staff from among the papers of the Academy's early years, have a remarkable fascination. Even on the surface they reflect the members' intellectual personalities and styles, and repeatedly they touch on vital passages in the nation's emergence into modernity.
Copies of Advancing Knowledge were distributed to all Academy members, to the Academy's University Affiliates, and to select libraries, historical organizations, and learned societies.