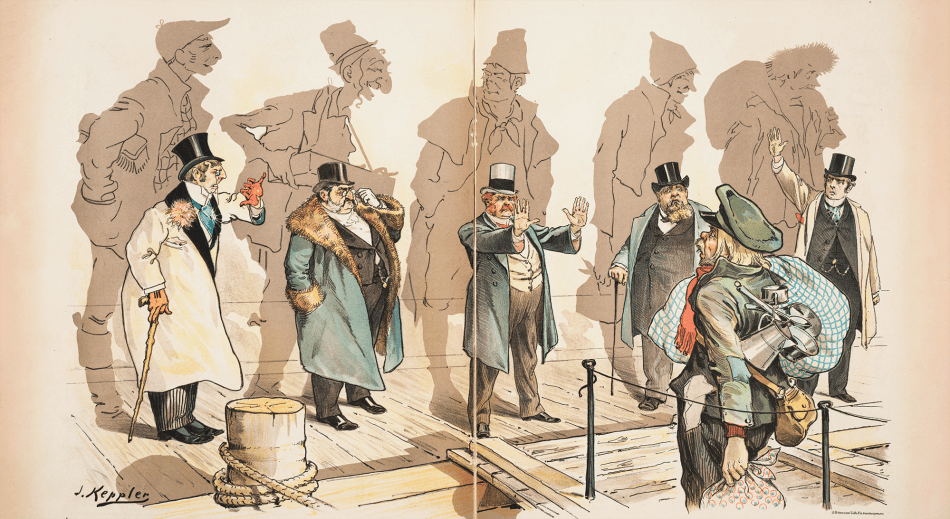 Dysfunctional immigration policies implemented in recent decades have accelerated growth of the Latino population and racialized its members around the trope of illegality. Until 2016, the cultivation of White resentment relied on a dog-whistle politics of racially coded symbolic language, but with the election of Donald Trump, White nationalist sentiments became explicit.
The Spring 2021 issue of Dædalus, guest edited by Douglas S. Massey, confirms this political transformation. Trump's mobilization of reactionary sentiment, Zoltan Haj­nal argues, was simply an extension of a long-term Republican project of fomenting White racial fears and scapegoating immigrants to increase their share of White voters. Michael Hout and Christopher Maggio's analysis of General Social Survey data found that Whites who favored restricting immigration and expressed racial resentment toward Blacks were far more likely to vote for Trump than Whites who did not hold these views. This tracks with Christopher Parker's findings that the election of Barack Obama against the backdrop of a browning America created a powerful threat to White status, fueling a bitter politics that is not just conservative, but reactionary. Ellis Monk discusses the pigmentocracy of skin-tone stratification that has broadened to encompass dark-skinned Hispanics and Asians as well as Blacks. The conflation of skin color with illegality, Cecilia Menjívar shows, is a distinctive feature of the racialization of Hispanics.
Trump exploited years of failed immigration and border policy to take power. César Cuauhtémoc García Hernández documents the steady criminalization of immigration – or crimmigration – in the United States. The devastation these policies have inflicted on immigrant families is explored by Yajaira Ceciliano-Navarro and Tanya Golash-Boza, who conducted 111 interviews with adult immigrants who had experienced the deportation or detention of a family member. And Roberto Gonzales and Stephen Ruszczyk depict life for unauthorized migrants brought to the country as children and the fraught process of "learning to be illegal," compelling them to scale back their dreams and ambitions for success in the only country they know.
Intensifying nativism since 2016 has coincided with a surge in anti-immigrant and White supremacist violence. Stephanie Canizales and Jody Agius Vallejo discuss Trump's racist and dehumanizing rhetoric and policies and report that counties hosting rallies for Trump in 2016 experienced a 226 percent surge in hate crimes and that the number of anti-Latino hate crimes rose by 21 percent in 2018 alone. And Jennifer Lee points out that while Asians are commonly seen as the "model minority," this stereotype does not protect them from racism and xenophobia, evidenced by the rise (including pre-pandemic) of anti-Asian hate crimes.
Still, there is room for optimism. Mary Waters and Philip Kasinitz note that while the lack of legal status hinders the economic integration of immigrants, it does not stop them from integrating socially. And Richard Alba concludes the volume by envisioning a future of integration, adaptation, and peaceful accommodation in which intergroup boundaries blur rather than harden. But this cannot be achieved without the full legalization of the roughly eleven million people who now peacefully live among us without legal permanent residence.
 
The Spring 2021 issue of Dædalus on "Immigration, Nativism & Race in the United States" features the following essays:
 
The Bipartisan Origins of White Nationalism
Douglas S. Massey (Academy Member; Princeton University)
Immigration & the Origins of White Backlash
Zoltan Hajnal (University of California, San Diego)
Immigration, Race & Political Polarization
Michael Hout (Academy Member; New York University) & Christopher Maggio (City University of New York; London School of Economics and Political Science)
Status Threat: Moving the Right Further to the Right?
Christopher Sebastian Parker (University of Washington)
The Unceasing Significance of Colorism: Skin Tone Stratification in the United States
Ellis P. Monk, Jr. (Harvard University)
The Racialization of "Illegality"
Cecilia Menjívar (University of California, Los Angeles)
Criminalizing Migration
César Cuauhtémoc García Hernández (University of Denver)
Race, Legal Status & Social Mobility
Mary C. Waters (Academy Member; Harvard University) & Philip Kasinitz (City University of New York)
The Legal Status Divide among the Children of Immigrants
Roberto G. Gonzales (Harvard University) & Stephen P. Ruszczyk (Montclair State University)
Latinos & Racism in the Trump Era
Stephanie L. Canizales (University of California, Merced) & Jody Agius Vallejo (University of Southern California)
"Trauma Makes You Grow Up Quicker": The Financial & Emotional Burdens of Deportation & Incarceration
Yajaira Ceciliano-Navarro (University of California, Merced) & Tanya Maria Golash-Boza (University of California, Merced)
Asian Americans, Affirmative Action & the Rise in Anti-Asian Hate
Jennifer Lee (Columbia University)
The Surge of Young Americans from Minority-White Mixed Families & Its Significance for the Future
Richard Alba (Academy Member; City University of New York)
 
"Immigration, Nativism & Race in the United States" is available for free on the Academy's website at www.amacad.org/daedalus. In January 2021, Dædalus became an open access publication.