Though technology and warfare have greatly evolved since Michael Walzer published his seminal text Just and Unjust Wars over forty years ago, the debate on the ethical challenges posed by these changes has been confined mostly within the boundaries of specific disciplines; few attempts have been made to pursue a genuine interdisciplinary debate on this matter. The Academy's New Dilemmas in Ethics, Technology, and War project, chaired by Scott D. Sagan (Stanford University), aims to challenge the silo approach to the topic and to foster instead a broader and more comprehensive discussion. First convened in 2014 to explore the intricate connections between the advancement of military technology and the moral and ethical considerations of the deployment of such capabilities in war and in postwar settings, the project has produced two Dædalus volumes and convened workshop and outreach events, informing the ongoing debate surrounding these issues and providing useful teaching tools.
From the beginning, the New Dilemmas in Ethics, Technology, and War project never strove to achieve intellectual consensus among its participants, although the workshops prior to the publication of the Dædalus volumes allowed for a truly collaborative writing experience. By bringing together a multidisciplinary group of authors–political scientists, military practitioners, just war theorists, statesmen, philosophers, historians, ethicists, lawyers, and physicians–this project has not only gathered diverse perspectives and a wide variety of ideas, but has enabled its authors and participants to learn more about the concerns of different sectors and identify and address any gaps in their own work. In addition, the project invited outside experts to review and offer suggestions on the ongoing research, introducing multiple approaches to the study of these complex relationships.
The Fall 2016 issue of Dædalus on "Ethics, Technology & War" explores the questions and contradictions raised by the evolving state of twenty-first-century warfare and politics, in the context of just war theory and the international laws of war. The Dædalus issue addresses such diverse topics as autonomous weapons, targeted killing by drones, the use of nuclear weapons, the responsibility to protect doctrine, the role of early warning and early action, American public opinion, and the use of cyber technologies in war, among others. In "Just & Unjust Targeted Killing & Drone Warfare," for example, Michael Walzer (Institute for Advanced Study) argues that targeted killing by drones ought to be subject to the same constraints as other forms of targeted killing in times of war. He shows that the Obama administration's secretive drone program has indeed relaxed restrictions on targeted killing, and has done so without public debate. Considering the question of whether to ban combat drones outright, he argues instead for the opening-up of the decision process to democratic scrutiny.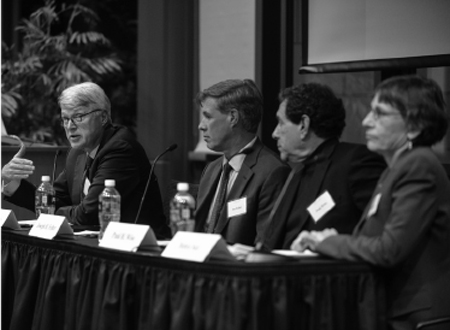 Scott D. Sagan (Stanford University), Joseph H. Felter (Stanford University), Paul H. Wise (Stanford University), and Debra Satz (Stanford University) at the "Ethical Choices in War and Peace" Stated Meeting at Stanford University.
The Winter 2017 issue of Dædalus on "The Changing Rules of War" examines the evolution of just war doctrine, the laws of armed conflict, the rules of engagement, war crimes tribunals, and other domestic and international organization procedures. The volume approaches these questions through an analysis of the rules of war in asymmetric conflicts, the prosecution of war crimes, and critiques of just war doctrine. Brigadier General Mark S. Martins (U.S. Army) and Jacob Bronsther (London School of Economics and Political Science) tackle the question of the efficacy of war crimes trials in "Stay the Hand of Justice? Evaluating Claims that War Crimes Trials Do More Harm than Good." War crimes trial skeptics argue that such trials endanger prospects for peace by encouraging enemies to continue fighting, that they achieve only "victors' justice," and that they are unnecessary due to the existence of more effective and less costly alternatives. But Martins and Bronsther argue, in accordance with a "moderate retributivism," that when carried out consistently with established law and procedure, and when not dramatically outweighed by concerns that trials will exacerbate ongoing or future conflicts, prosecutions are a legitimate and sometimes necessary response to violations of the laws of war and international criminal law. Also in the volume, Paul H. Wise (Stanford University) offers a physician's perspective in "The Epidemiological Challenge to the Conduct of Just War: Confronting Indirect Civilian Casualties of War." He points out that most civilian casualties in war are the result of "indirect effects," of the disruption of the essentials of daily living, including food, water, shelter, and health care, and suggests that recent technological advances make such neglect increasingly unacceptable. For more information about these Dædalus volumes or to access the essays, please visit http://www.amacad.org/daedalus.
A primary goal of the project has been to reach as many policy-makers, military practitioners, academics, and students as possible, fostering conversation, debate, and, ultimately, a reexamination of the existing legal and ethical frameworks guiding prewar, war, and postwar decisions. Academy staff and project members have organized several events in the United States and abroad to reach these diverse audiences and generate a deeper examination of these issues.
During an authors' workshop and series of panel discussions hosted at West Point, for example, representatives from several organizations, including the United Nations High Commissioner for Refugees (UNHCR) and the United Nations Department of Peacekeeping Operations (UNDPKO), along with West Point's military and civilian professors, were invited to join the authors in discussions of key ethical challenges currently facing states, international organizations, and NGOs concerned with the planning, impact, conduct, and aftermath of war. One attendee invited the Academy and project leaders to Geneva to speak with high-level leadership at UNHCR one week prior to a major five-year planning process for the organization. He expressed that, even with his years of experience in this field, the research conducted by the project's authors offered him new perspectives that he was eager to share with his colleagues. Such new connections and opportunities have been one of the many benefits of these outreach activities.
Other events have included an Academy Stated Meeting on "Ethical Choices in War and Peace" (see page 68); a series of briefings with the UNDPKO in New York; a day-long series of public panel discussions on "Ethical Dilemmas in War" with King's College London; talks at Oxford University; and a series of briefings with NATO and the NGO International Crisis Group in Brussels.
The project is continuing its efforts with meetings with think tanks in Washington, D.C., briefings with policy-makers in U.S. military leadership, and further international outreach.
In addition, the Academy is organizing a Stated Meeting in Cambridge, Massachusetts, on March 8, 2017, on "Ethics and the Global War on Terror." The program, which will serve as the 2017 Distinguished Morton L. Mandel Annual Public Lecture, will be live-streamed online. More information about the meeting is available on the Academy's website at www.amacad.org.
The project also hopes to participate in the blog series Political Violence @ a Glance: Expert Analysis on Violence and Its Alternatives, which provides analysis on violence and protest in the world's conflict zones, as well as publish a series of op-ed essays related to the topics covered in the two Dædalus issues.
The Academy is grateful to Humanity United, the John D. and Catherine T. MacArthur Foundation, and the Rockefeller Foundation for supporting the New Dilemmas in Ethics, Technology, and War project.