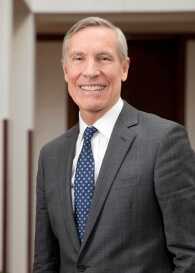 Since coming to the Academy as President in 2019, I have had the privilege of leading an organization that seeks to connect all forms of knowledge to help shape policy in the areas of American institutions; education and the development of knowledge; humanities, arts, and culture; global security and international affairs; and science, engineering, and technology.
As you will see in the pages that follow, an increasingly common thread running through our work is how to address the trend of declining trust in institutions. For example, in September 2022, the Academy convened an exploratory meeting on "The Effects of Prolonged War on Democracy," which examined the stress placed on our democratic system by extended military commitments. In October, the Academy hosted a Stated Meeting that featured U.S. Representatives Jim Himes and Bryan Steil, Chair and Ranking Member, respectively, of the House Select Committee on Economic Disparity and Fairness in Growth, to discuss Americans' declining faith in the economy and explore ways to increase equity and opportunity. And in December, the Academy hosted a three-day virtual conference on "Reinventing Democracy: How Hometowns Are Strengthening America," which convened local leaders from across the country to discuss approaches to strengthen our political institutions, civic culture, and civil society.
Beyond our project work, this edition of the Bulletin features a particularly timely issue of Dædalus on "Institutions, Experts, and the Loss of Trust." Guest edited by Academy members Henry E. Brady (University of California, Berkeley) and Kay Lehman Schlozman (Boston College), the volume explores, in the words of the guest editors, "what institutions do and why trust matters for their success." In one essay, "The Discontents of Truth & Trust in 21st Century America," Academy member Sheila Jasanoff addresses the bright line commonly drawn between science and politics, with expert authority extolled and the skeptical views of the public too often dismissed. In her words, "trust can be regained with more inclusive processes for framing policy questions, greater attentiveness to dissenting voices and minority views, and more humility in admitting where science falls short and policy decisions must rest on prudence and concern for the vulnerable."
The Academy seeks to pursue such an approach in all its work. The Our Common Purpose report was informed by conversations with hundreds of Americans across the country, and our current commissions on reimagining the economy and accelerating climate action are placing a similar emphasis on inclusion. In doing so, it is my hope that we can strengthen trust in the Academy as an institution and, ultimately, in the democratic institutions we serve.
David W. Oxtoby