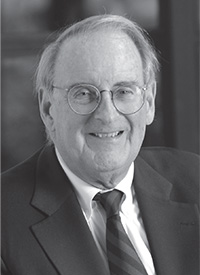 Jonathan F. Fanton
The remarks given by new members during our October Induction weekend remind us of the breadth and depth of talent present in the membership of the American Academy of Arts and Sciences. In this time of transition and uncertainty, both in America and around the world, the question before us is how best to employ the expertise, judgment, and values of our members, in the words of our 1780 charter, "to cultivate every art and science which may tend to advance the interest, honor, dignity, and happiness of a free, independent, and virtuous people."
Let us consider what we have to offer. The Academy has earned a high level of trust for being independent, nonpartisan, and nonideological, committed to supporting quality research and applying evidence to policy. The Academy has more than five thousand members drawn from virtually every discipline and profession. We are forming program committees in major cities across the country and last year offered over ninety meetings for members in twenty cities. Those programs addressed a range of critical issues, including science and policy around global warming; ethical choices in war and peace; populism and the future of American politics; the creative forces in science and entertainment; threats to global cultural heritage; managing the risks of new nuclear technologies; and the role of public research universities in serving the public interest. Recommendations from Academy commissions and studies continue to inform policy; for example, three recommendations from Restoring the Foundation, a report from our project on New Models for U.S. Science and Technology Policy that suggests actions to secure America's leadership in science and engineering research, are included in the recently passed American Innovation and Competitiveness Act. The Academy also has a project underway looking at how the public builds trust – or distrust – in science and the scientific process. The Public Face of Science will look at all types of media and at how science informs public policy decisions. And issues of Dædalus are addressing important topics such as immigration, mass incarceration, judicial independence, race and inequality, and corruption.
As the Academy approaches its 250th anniversary, it is time to return to the issues that concerned our founders: how to build a nation rooted in the belief that the government derives its "just powers from the consent of the governed." Central to this belief was a conviction that all citizens had the right and the responsibility to be fully engaged in shaping the life of the new democracy. America has grown and prospered far beyond what the nation's founders could have imagined. And so it is natural to ask: how can the Academy help citizens to strengthen their country by exercising the rights and embracing the responsibilities of democratic citizenship? Encouraging participation in the political process is one central goal. The fact that 42 percent of those eligible to vote in last year's presidential election did not do so is a reminder of the importance of encouraging this most fundamental practice of citizenship in a democracy. But perhaps more important is articulating the significance of civic engagement more broadly.
The Academy is considering a new project on strengthening the practice of democratic citizenship. Certainly increasing the study of history and civics in K-12 as well as in higher education will be one objective of such a project. Understanding how people obtain accurate information about their government and develop trust in expertise will be important. A critical focus will be understanding the role of the institutions of civil society, such as churches, voluntary associations, and youth groups like the Scouts and 4-H. Academy member Thomas Ehrlich has defined civic engagement as "working to make a difference in the civic life of our communities and developing the combination of knowledge, skills, values, and motivation to make a difference. It means promoting the quality of life in a community through both a political and non-political process."1 Our project seeks to better understand the forms and substance of civic engagement today, at a time when the rise of social media and other forms of online activity have altered the contours of community interaction.
This project aspires to change the terms of an ongoing conversation about what forms of activity constitute civic engagement and how those activities help people gain the knowledge, skills, and values necessary to participate as citizens responsible for their own government. Engagement in their communities enables citizens to define problems and opportunities and then collaborate to address them. As Alexis de Tocqueville noted on his visit to the United States in the 1830s, one of the distinguishing features of the young republic was the propensity of its citizens to join together in forming associations to achieve specific community goals. He was astonished by the "immense assemblage of associations in that country," and spent a great deal of energy analyzing why Americans – who were the most individualistic people he had ever met – were so active in forming organizations.2 Tocqueville concluded of the American citizens he met that "They all, therefore, become powerless if they do not learn voluntarily to help one another."3 This project will examine the specific ways citizens today are joining together to help one another, to improve their communities, and to develop the values – such as empathy, respect for others, and critical thinking – so essential to a healthy democracy.
Among the questions the project will ask are:
What are the forms of civic engagement that are not included in traditional civics education? Are there behaviors that count as "civic engagement" that we might be overlooking?
What experiences encourage people to engage in civic institutions and model the behaviors needed for civic participation?
What mechanisms exist for connecting people across demographic and ideological boundaries? What spaces are there for people to learn how to interact with those who are different from them?
How have the technological and media transformations of the past twenty years altered what civic engagement looks like?
How will our needs change as the demographic makeup of the nation changes?
One objective of the project is to collect baseline data on a wide range of practices and behaviors that bolster or weaken civic engagement and to evaluate how the level of civic engagement connects to responsible democratic citizenship. The data will be collected on an ongoing basis to provide researchers and policy-makers with an evidence-based foundation for future discussions. We hope that the insights from the project will be useful to policy-makers and the public in helping Americans come together to strengthen our democracy so that it remains a positive example for societies around the world.
We welcome your comments on additional ways the Academy can fulfill its mission of advancing the common good in this time of transition.

ENDNOTES
1. Thomas Ehrlich, Civic Responsibility and Higher Education (Lanham, MD: Rowman and Littlefield, 2000), vi.
2. Alexis de Tocqueville, Democracy in America, Book II, Chapter 5.
3. Ibid.