In Memoriam: John (Jack) Francis Cogan, Jr. (1926–2020)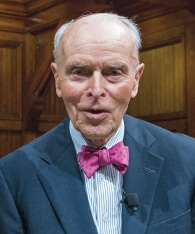 Jack Cogan was a man for whom the phrase "a giant of a gentleman" was the perfect description. He had many passions and hobbies–in business and politics, for social causes and cultural institutions–and he cared deeply about all of them, giving his life's work to contributing to their success. He was a man of sound judgment and fairness as well as a catalyst for action. Known for the twinkle in his eye, a welcoming smile, and elegant, jaunty bow ties, Jack would enliven a room by entering it.
A graduate of Harvard College and Harvard Law School, and a 2009 Harvard Medal recipient, Jack was a brilliant thinker, a leader in the Boston business community, and an impassioned philanthropist. He joined the law firm Hale and Dorr (now WilmerHale) in 1952, and during his long career with the firm he served as Managing Partner and Chairman. He also had a parallel career in the financial services industry, working as a top official in the asset management firm Pioneer Investments, now Amundi Pioneer Asset Management. He also served as Chairman of the Investment Company Institute, where he was a member of the Board of Governors and the Executive Committee. 
Jack's strong belief in contributing to his community and to the vitality of local cultural institutions propelled him to be a leader in the Boston arts world. He chaired the Board of Trustees at the Museum of Fine Arts, Boston and served as Vice Chairman of the Boston Symphony Orchestra's Board of Trustees and as a member of its Board of Overseers. He also served on numerous other boards, including as Chair of the Trustees of what is now the Boston Medical Center. 
Always a visionary, Jack was generous, caring, thoughtful, and kind. A challenge stimulated him, and he worked tirelessly to find positive solutions to any issue before him. He encouraged people and institutions to recognize their worth and options and to reach for the highest standards in attaining their goals. 
Jack was elected to the Academy in 2005 and became a member of the Academy Trust that same year. He was a long-time member of the Finance Committee, the Audit Committee, and the Development & Communications Committee. He was active in all aspects of Academy life, supporting its work and activities. The Academy was the beneficiary of his wisdom, experience, and breadth of knowledge. I along with his many friends and colleagues will miss his wise counsel and gentle nature. 
Jack died on January 24, 2020. A devoted husband, father, and grandfather, he is survived by his wife, Mary Cornille, three sons and one daughter, and nine grandchildren.
Susan W. Paine