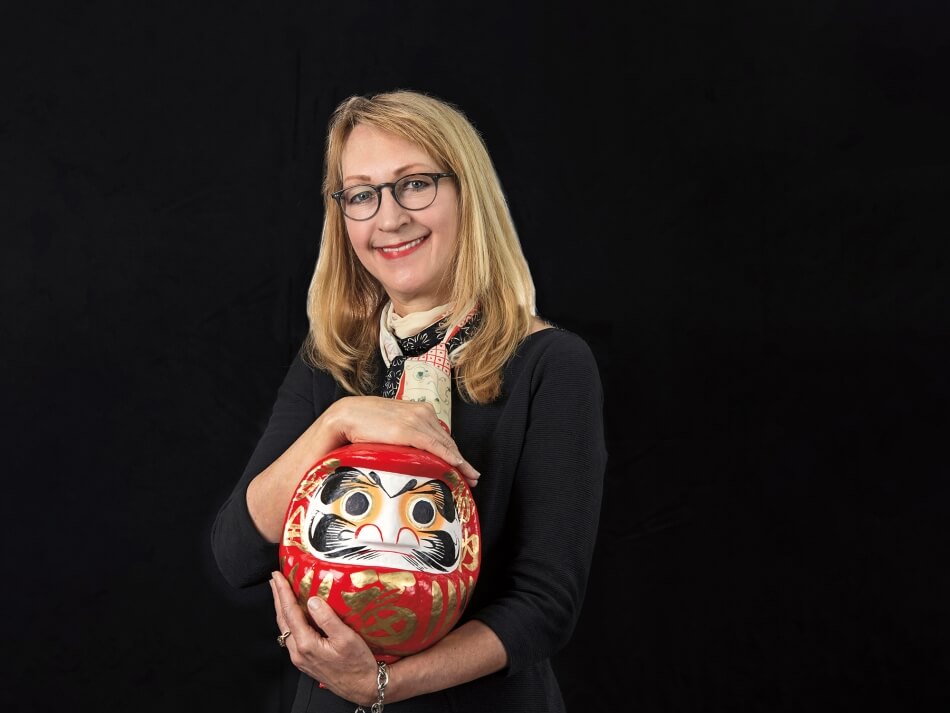 Frances McCall Rosenbluth, one of the Academy's most dedicated members, died in New Haven on November 20, 2021, at age 63. Rosenbluth, the Damon Wells Professor of Political Science at Yale University, had been dealing admirably with glioblastoma for the past year.
Professor Rosenbluth's initial scholarly specialty was the politics of Japan; she was born in Japan and spoke the language fluently. Beginning with her first book in 1989 – Financial Politics in Contemporary Japan – she was recognized as an authority on the politics of Japan and its connections to the global political economy.
Her intellectual scope was wide-ranging and expanding. She was especially interested in gender issues, including economic and political obstacles to greater equality for women. Rosenbluth's book with Torben Iversen – Women, Work and Politics: The Comparative Political Economy of Gender Inequality (2010) – broke new ground in analyzing the gender wage gap, its causes and consequences.
Over the past few years, Rosenbluth directed her attention to another pressing topic in political science: the distinctive characteristics of democratic communities and challenges to their flourishing. With John Ferejohn, she coauthored Forged Through Fire: War, Peace and the Democratic Bargain (2017). Her most recent book, coauthored with Ian Shapiro, was entitled Responsible Parties: Saving Democracy from Itself.
 Frances and I worked together as co-guest editors of the Winter 2020 issue of Dædalus on "Women and Equality." In the Introduction to that volume, we wrote that "our interest is in the situation of women in the world today, and we are not concerned with how any individual has come to the understanding and presentation of self as female. We are more interested in what has come to be known as 'intersectionality,' the ways in which differences among human beings – including race, ethnicity, class, and sexual identification – both divide and unite women in all societies today." Consistent with this social scientific orientation, we and our talented, deeply involved contributors wrote about political representation, women and work, economic equality, violence against women, and changing social norms. We explored strategies and pathways toward meaningful equality for women along multiple dimensions.
The origins of this venture give a good sense of Frances Rosenbluth's distinctive combination of vision and pragmatic activism. Over a cup of coffee at the morning break during her first meeting as a member of the Academy's Council, having listened to reports about all the varied activities of the Academy, she asked me: "Has the Academy ever done anything on the topic of women and gender?" As a committed feminist and seasoned member of the governing board, I was chagrined to realize that this question had never occurred to me.
With her typical energy and directness, Frances suggested that we pursue this topic. We learned that there had been no Academy project in this area since 1987. President David Oxtoby and Phyllis Bendell, editor of Dædalus, agreed with us that it was high time this lacuna was addressed, and they supported our efforts enthusiastically. We hosted two seminars, bringing scholars from around the world together at the House of the Academy, and agreed to collaborate on a volume for Dædalus. All of us who were involved in the venture were grateful for Frances's scholarly insights, her generous support for each of us, and her steady leadership.
Frances Rosenbluth was a legendary teacher at Yale, and a fine mentor to younger faculty and students. She won several teaching prizes, and her courses were often over-subscribed. Her undergraduate lecture course on "Sex, Markets and Power" was particularly popular. Yet Rosenbluth's support of her Ph.D. students was equally important, to them and to her as well. According to the January 8, 2022, issue of Yale Daily News, many of them said that "her warmth was the ultimate factor that convinced them to study at Yale."
In addition to her devotion to teaching, Rosenbluth was an accomplished and influential contributor to the administration of her university. She chaired the political science department and served as deputy provost for the social sciences and faculty development. She also directed several Yale programs, including the program in Ethics, Politics and Economics and, more recently, the Leitner Program in Effective Democratic Governance at the Jackson Institute for Public Affairs. She also served for several years on the board of Waseda University, commuting regularly to Tokyo for meetings.
Frances Rosenbluth's participation in the affairs of the Academy was highly significant for the organization and for Frances personally as well. She was elected to the Academy in 2007 and had served since 2015 as a member of the Council. Frances was also active as a member of the Committee on Studies and Publications and the Political Science Membership Section Panel. Her leadership of the New Haven Program Committee was instrumental in making that group one of the most vibrant and active regional program committees of the Academy. Most recently, she was part of the Program Advisory Committee for the Academy's project area on American Institutions, Society, and the Public Good. Those of us who were familiar with her contributions confidently expected her to take on the leadership of one of the Academy's governing boards before too long.
Frances Rosenbluth leaves her longtime partner, Ian Shapiro, and three beloved sons. Her family was deeply important in her life – walking her dogs with her family near her home in Hamden, cooking and hiking, and enjoying warm conversations. She will be greatly missed by all of us who were fortunate enough to know her, and by the many individuals whose lives she touched in various ways. Her contributions to so many organizations, including not only Yale and the American Academy but also other institutions she helped build and sustain, both in New Haven and around the world, have left a profoundly important legacy for good.
Nannerl O. Keohane
Member of the Academy's Board of Directors;
President Emerita of Wellesley College and Duke University