In Memoriam: Morton L. Mandel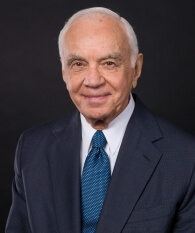 It is with deep sadness that the Academy notes the passing of business leader, entrepreneur, philanthropist, and dedicated public servant Morton L. Mandel on October 16, 2019, at the age of 98.
Morton Mandel, elected a member of the Academy in 2011, was Chairman and Chief Executive Officer of Parkwood LLC, headquartered in Cleveland, Ohio. With his brothers Jack and Joseph, he founded the Premier Industrial Corporation, which later became one of the world's leading industrial parts and electronic components distributors. He served as Chairman and Chief Executive Officer of the Corporation from 1957 to 1996, when it merged with a British company.
Mr. Mandel also served as the Chairman and Chief Executive Officer of the Jack, Joseph, and Morton Mandel Foundation, which funds numerous social leadership initiatives in the United States and Israel. The work of the Foundation is grounded in the belief that exceptional leaders, inspired by powerful ideas, are key to improving society and the lives of people around the world.
Mr. Mandel believed deeply in the work of the Academy and, as the single largest donor in the Academy's history, he helped transform the organization in recent years. Through the Jack, Joseph, and Morton Mandel Foundation, Mr. Mandel's generosity allowed the Academy to establish a membership engagement program, further the impact of its studies, provide greater outreach to members across the country and around the world, and improve its technology and infrastructure.
Mr. Mandel epitomized the vision, set forth by the Academy's founders, of a patriot dedicated to advancing the common good and devoted to service to others and to the nation.
On January 11, 2016, at a ceremony held at the House of the Academy, Mr. Mandel was presented with the Academy's Scholar-Patriot Award in recognition of his philanthropy and dedication to public service.
Scholar-Patriot Award
Citation
For more than seventy years, your energy, generosity, and dedication to the public good have known no bounds. From humble beginnings, your parents instilled within you the basic values of integrity, respect, honesty, decency, and generosity. With your brothers and these core values, you built a thriving global corporation dedicated to the principles of delivering quality products and exceptional service, and the simple yet powerful philosophy: if you find a need, fill it. In your work and your philanthropy, you have developed leaders with passion and intellect. You have modeled the lessons learned early in life to share resources and to be generous relative to your capability, and have inspired generations of leaders in higher education, the Jewish community, and nonprofit organizations to change the world and improve the human condition. You have taught us to dream and to believe dreams can be realized. We are better off because of you.
Business leader, entrepreneur, philanthropist, and dedicated public servant, you are the model of the enlightened, informed, and passionate leader. We honor your outstanding commitment to the community, the nation, and the world