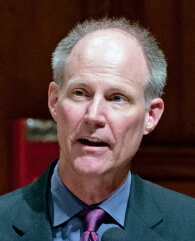 The Committee on Studies and Publications supports the Academy's Council by regularly reviewing the progress of projects, considering topics for future studies, and evaluating publications, including Dædalus.
Academy members from a broad range of disciplines and professions share their expertise on projects and publications, which look at critical issues, advance discussion on central questions, and offer solutions to both national and international challenges.
During 2020, two senior program staff members joined the Academy team. In September, Islam Qasem started as the John E. Bryson Director of Science, Engineering, and Technology Programs and Program Director for Global Security and International Affairs to oversee the project work within those portfolios. Tania Munz started in February as the new Chief Program Officer. In this capacity, she leads the coordination and integration of the Academy's programmatic work within the five areas of emphasis:
American Institutions, Society, and the Public Good

Education and the Development of Knowledge

Global Security and International Affairs

The Humanities, Arts, and Culture

Science, Engineering, and Technology.
An overview of the active projects and a list of recent Academy publications may be found on pages 17–38.
During 2020, the Committee recommended four project proposals to the Council and the Board of Directors and approved four Dædalus proposals. The projects are:
Accelerating Climate Action – Cochair: Christopher Field (Stanford Woods Institute for the Environment, Stanford University). Additional cochairs to be named.

The scientific consensus is clear: climate change is upon us, and its impacts will be devastating and increasingly difficult to prevent and address if we do not act now. This project will attempt to answer the following questions: Why has meaningful action in the United States on this critical issue stalled, despite strong scientific backing across the international scientific community? What factors and policies have permitted an unjust distribution of the impacts of climate change, in which lingering repercussions of structural racism are, and will continue to be, exacerbated by the climate crisis? And how can the United States accelerate positive trends on climate action and work to reach zero emissions by the middle of the twenty-first century?
 
The American Dream: Planning Phase – Cochairs to be determined.

An intensive twelve-month planning period is being undertaken to develop this major new initiative. This project will address how surging inequality and declining rates of social mobility have, for many Americans, bred deep distrust of economic and political institutions. The American Dream project will build on and complement the Academy's Commission on the Practice of Democratic Citizenship.
 
Rethinking the Humanitarian Health Response to Violent Conflict (approval of updated focus) – Cochairs: Paul Wise (Stanford University School of Medicine); Jennifer Welsh (McGill University; Somerville College, University of Oxford); and Jaime Sepulveda (University of California, San Francisco).

The fundamental goal of this initiative to confront the current crisis in humanitarian protection and the provision of health services in areas plagued by armed conflict remains central to this study. However, recent events surrounding the

COVID

-19 pandemic have elevated the utility and urgency of some of the initiative's core components. The revised study will focus on two broad areas of emphasis: global cooperation and pandemic control; and regional humanitarian responses to pandemics, criminal and political violence, and forced migration. In response, the initiative will prioritize activities that focus more directly on these components and initiate scholarly work with the greatest promise of making critical, strategic contributions.
 
Supply Chains: Building Resiliency for a Post-

COVID

World – Cochair: Margaret Levi (Center for Advanced Study in the Behavioral Sciences, Stanford University). Additional cochairs to be named.

Coming out of a series of

COVID

-19 – focused sounding meetings, this project will examine how our current systems of essential industries, services, and workers can be better assessed and reconfigured to ensure long-term resilience and sustainability in the face of the current and possible future health crises.
The four Dædalus proposals that were approved are:
"Reimagining Justice: The Challenges of Violence and Punitive Excess," guest edited by Bruce Western (Columbia University). This issue of Dædalus will bring together essays that look at violence and justice reform as well as criminalization and punitive excess. The volume will address the major challenges to the task of foundational criminal justice reform in the United States.

"Institutions, Experts, and the Loss of Trust," guest edited by Henry E. Brady (University of California, Berkeley) and Kay Lehman Schlozman (Boston College). The collection will explore the extent and consequences of the erosion of trust. One central theme will be the interplay between the decline in trust and the way that distrust adheres to multiple lines of political and social cleavage.

"The Humanities in American Life: Thriving or in Crisis?" guest edited by Norman Bradburn (Univer­sity of Chicago, emeritus), Carin Berkow

itz (New

Jersey Humanities Council), and Robert B. Townsend

(American Academy of Arts and Sciences). This volume of Dædalus will examine the value and state of the humanities in American society, with a focus on newer areas of academic humanistic inquiry, such as the medical, environmental, and digital humanities.
"

AI

and Society," guest edited by James Manyika (McKinsey Global Institute). The volume will explore where we are in the development of artificial intelligence, the applications and uses of

AI

, and key questions around the impact that

AI

could have on society and on our future. The essays will present both positive and critical views of

AI

, in its technical and scientific development and in its impacts on society.
The Committee on Studies and Publications invites members to suggest ideas for projects and for issues of Dædalus that draw on the knowledge and interests of the Academy's membership and on the Academy's ability to bring together individuals from diverse fields, disciplines, professions, and institutions.