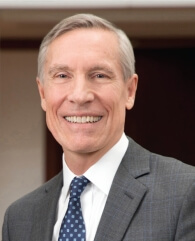 As we reach the end of a year like no other, I hope this message finds you well and safe. As you know, the COVID-19 pandemic has affected every aspect of the Academy's work. Our staff has been working remotely since the middle of March 2020 and will continue to do so until at least July 2021. We have had to adapt quickly to a year in which we have become a truly "virtual" community. And yet, this was a year that also demonstrated the enduring strength of that community.
A series of online events has allowed us to include more members – in more places– than ever before, a lesson we will take with us when we reach the "new normal." Through weekly Zoom all-staff meetings and virtual social events, our staff has maintained the close bonds that so impressed me when I first arrived at the Academy. And our virtual 2020 New Member Celebration on October 7, while certainly no substitute for Induction, succeeded in conveying the sense of fellowship, intellectual curiosity, and public purpose that makes the Academy such a special institution.
While the COVID-19 crisis has fundamentally changed how the Academy pursues its work, another crisis has inspired us to reconsider why.
As our Board Chair Nancy Andrews notes in her message in this Annual Report, the recent incidents of police violence and ensuing protests for racial justice have led us to reflect on the role the Academy plays in our society. As a workplace, we have come together through candid all-staff discussions, special virtual staff events, and a new Diversity and Inclusion Council to engage in a meaningful dialogue about what we can do– as individuals and as an organization– to build a more hopeful future. Three Board members– Anthony Appiah, Deborah Rutter, and Natasha Trethewey– demonstrated superb leadership in developing an Academy Statement on Anti-Racism, which was approved by the Board and is available on the Academy's website and on the following pages. To ensure that this statement is translated into action, we have established a Board Standing Committee on Anti-Racism, focused on strengthening the diversity of our membership and leadership, making sure that the Academy holds up the values of anti-racism as an employer, and ensuring that a commitment to anti-racism is reflected in our work.
This renewed commitment to building a more just society is already evident in the projects and publications detailed in this Annual Report. In June, the Academy released Our Common Purpose: Reinventing American Democracy for the 21st Century, the final report of the Commission on the Practice of Democratic Citizenship. Over the course of two years, the Commission conducted listening sessions with hundreds of Americans in communities across the country, developing a set of 31 recommendations to help make American democracy more representative, responsive, and just. In September, the Academy's Making Justice Accessible project released Civil Justice for All, providing concrete recommendations to improve access to civil legal assistance for the millions of low-income Americans who need it. And projects such as The Public Face of Science, Challenges for International Scientific Partnerships, and New Models for U.S. Science and Technology Policy released reports emphasizing the importance of inclusion to the strength, vitality, and competitiveness of the scientific enterprise.
The Academy was born of crisis, established by the nation's founders in 1780 amidst the American Revolution. Let us likewise make the current crisis a time of rebirth for the Academy. I hope you will join us as we confront the challenges of our time and bring new meaning to our founders' promise of service to a "free, independent, and virtuous people."