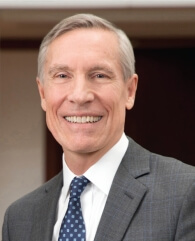 As Board Chair Nancy Andrews notes in her message, the COVID-19 pandemic continues to affect every aspect of Academy life. Yet despite the challenges of the last eighteen months, by nearly every measure the strength of our community of members has only increased.
Our virtual events have drawn larger and more diverse audiences than in-person events in the past. We successfully released the final reports for several major projects and carried out wide-ranging consultations to develop two new commissions. And we experienced a record-breaking fundraising year, with overall gifts exceeding $21 million.
These remarkable demonstrations of the strength of our community leave me filled with gratitude and hope. They also call to mind my first Annual Report message in 2019, in which I expressed my belief that "the true essence of the American Academy lies in building connections: between research and policy, among fields and disciplines, and, most importantly, across diverse groups of people and perspectives."
These connections are certainly important for their own sake: they enrich our lives, careers, and the institutions and causes we serve. And yet for the Academy, they also unite us in common purpose: to advance knowledge in service to the nation and the world.
In my first message, I articulated a vision in which the Academy's work is guided by two broad, overarching themes: bridging divides at home and building a global future. Despite the upheaval of the last two years, I am pleased to report that we have made important progress in realizing that vision, as detailed in the pages of this 2021 Annual Report.
We are seeking to bridge the divides in our nation through initiatives focused on strengthening democracy and civic life; promoting diversity, equity, inclusion, and anti-racism; reforming our civil justice system; advancing the role of the arts in strengthening our communities; and launching a new commission to examine the persistent challenge of inequality in America.
Together we are building a global future through our projects on strengthening international scientific partnerships; meeting the challenges of a "new nuclear age"; reexamining humanitarian responses to violent conflict; and convening a new commission on accelerating climate action.
We have also made important progress in strengthening connections with those we ultimately serve, engaging in extensive consultations with outside experts, policy-makers, and the public to inform the implementation of Our Common Purpose, the final report of the Commission on the Practice of Democratic Citizenship, and the development of new projects on inequality and climate change. In a historic step to increase the impact of the Academy's work, Dædalus became an open access publication in January 2021, enabling the extraordinary scholarship of our quarterly journal to reach far greater audiences.
None of this progress would have been possible without the steadfast support of our members, who enabled the Academy not only to survive but also to thrive during these difficult times. As we near the completion of our $100 million campaign, I hope you will consider the ways in which you can strengthen your connections with the Academy and your fellow members, united in purpose to bring our country together and build a more hopeful future for the world.