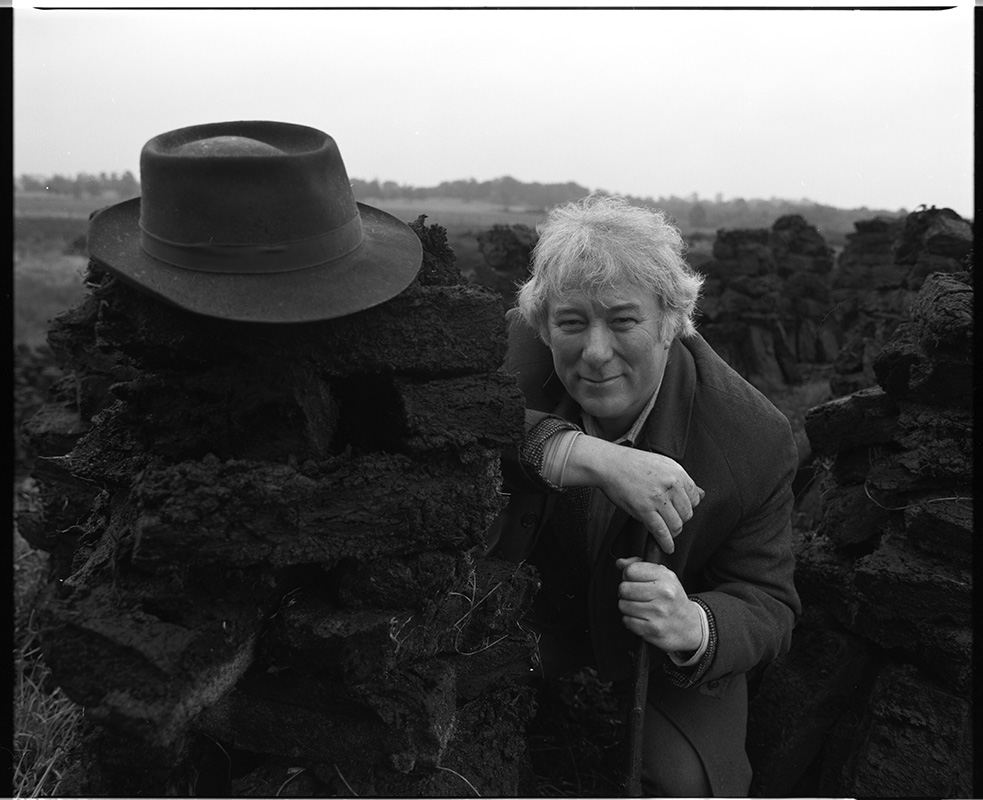 On a cold and wet winter day, December 12, 1987, poet Seamus Heaney came to the Academy and read a selection of works with commentary. Part of a larger Saturday Afternoon monthly program, this particular one was in celebration of the Holiday Season, yet Heaney shied from making it too sentimental. He first began with William Wordsworth's "Prelude", "which is set just before Christmas, but doesn't, mercifully, have too upbeat a seasonal spirit in it."
To listen to the full recording of that day, or read a full transcription, click here.
He followed readings of Wordsworth with those of his own work, interweaving thoughts on the process of his writing with their inspiration, such as in "From the Frontier of Writing," which drew a parallel between the conclusion of work on a piece, and the feeling of passing through checkpoints amidst sectarian violence.
"From the Frontier of Writing"

The tightness and the nilness round that space
when the car stops in the road, the troops inspect
its make and number and, as one bends his face
towards your window, [clears throat] you catch sight of more
on a hill beyond, eyeing with intent
down cradled guns that hold you under cover
and everything is pure interrogation
until a rifle motions and you move
with guarded unconcerned acceleration--
a little emptier, a little spent
as always by that quiver in the self,
subjugated, yes, and obedient.
So you drive on to the frontier of writing
where it happens again. The guns on tripods;
the sergeant with his on-off mike repeating
data about you, waiting for the squawk
of clearance; the marksman training down
out of the sun upon you like a hawk.
And suddenly you're through, arraigned yet freed,
as if you'd passed from behind a waterfall
on the black current of a tarmac road
past armor-plated vehicles, out between
the posted soldiers flowing and receding
like tree shadows into the polished windscreen.
Transcription
[Seamus Heaney]
This is called "From the Frontier of Writing". It's both, uh, it's both, uh, an account of something that's very common in, uh, the North of Ireland for the last, uh, almost twenty years now. Just, uh, army roadblocks and police roadblocks, and, uh, depending on your affiliation, origin, disposition, political loyalties, political, uh, hopes, aspirations, religion, temperament, whatever, going through a roadblock, uh, can be either, a slight humiliation, or a slight, uh, confirmation. "Our security forces are in charge", or [strains] "bow down and offer up".
So it's, uh, this- this poem uses the, uh, the crossing though, the, uh, the interrogation and, uh, and, the restitution of self after it. The little escape feeling that occurs at a roadblock. As, ehm, one emblem for that sense of coming through that we have when we do something. Could be a lyric poem, or something that's well finished, something that's rewarded by a sense of having been well done. And that lasts for about, uh, ten seconds. Well. Well. That's it.
With Thanks
The Academy is grateful to a donor (who chooses to remain anonymous) whose support for the preservation and sharing of historical materials helped the Academy Archives secure technological assistance from the Northeast Document Conservation Center for the digitization of the original recording of Heaney's reading.