The first-ever Indigenous Peoples March on Washington took place in January 2019 and included more than 1,000 people representing more than 100 tribal nations. Teen Vogue covered the event with author Hanna Wallis writing that the day was "as much about strengthening future coalitions as healing from past trauma. After centuries of forced assimilation, genocide, and erasure, the Indigenous movement shows tremendous resilience — as signs held by those on the ground read, 'we are still here,' 'we are unafraid,' and 'we are rising up.'"
The coverage featured a photo essay with images capturing moments from the march and captions providing additional context. The caption for this photograph includes a reference and link to Scott Sagan's essay on "The Face of Battle without the Rules of War: Lessons from Red Horse & the Battle of the Little Bighorn," published in the Winter 2017 volume of Daedalus.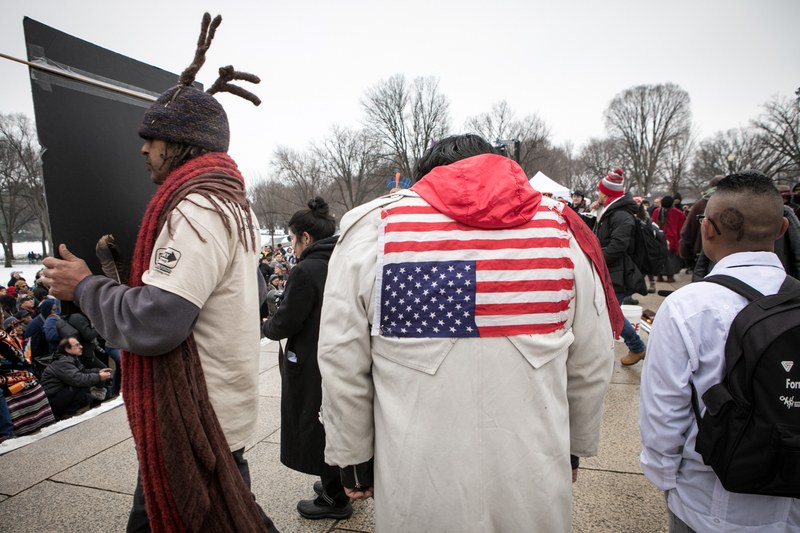 Running the American flag upside-down is traditionally a sign of distress or emergency, and has long been used by Native peoples as a sign of resistance (even seen in an image of displaced Osage men who were photographed in the 1890s). In the early 1970s, the American Indian Movement used the symbol as a way of expressing the catastrophic living conditions on reservations, many of which lacked water, food and basic services.
The image below – pulled from Sagan's essay – depicts the Osage Iloshka Lodge with an inverted American flag.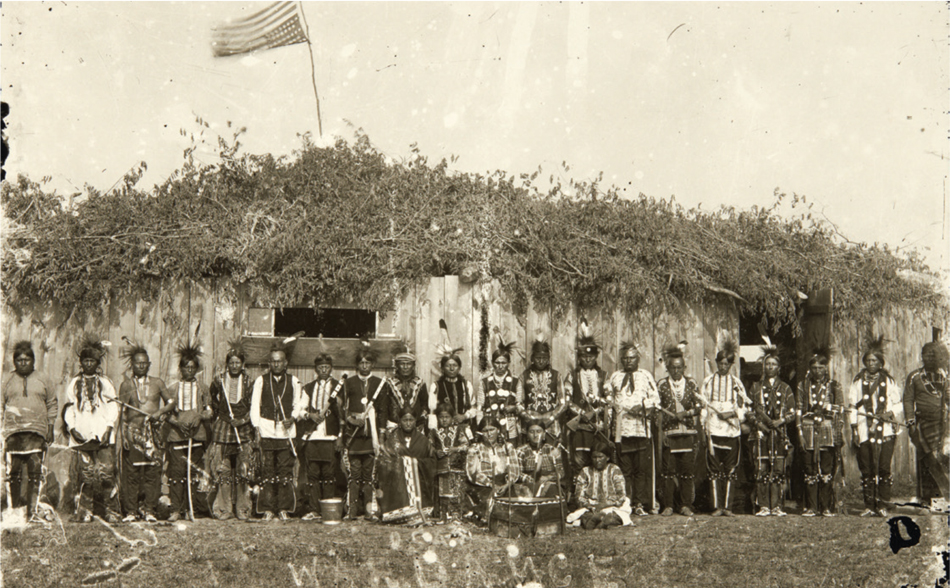 "This is a photo of an Osage lodge at their reservation in Oklahoma in the 1890s. The Osage had served as Custer's scouts in the 1868 campaign against the Cheyenne, leading to the Battle of the Washita. They certainly knew the proper way to fly an American flag. Yet, despite their service, the Osage were removed from their traditional homes in Arkansas and Missouri and forced to move to the dry Oklahoma reservation. The photo depicts Osage men standing in quiet defiance in front of the new tribal lodge in Oklahoma."