The American Academy of Arts & Sciences is awarding linguist William Labov the Talcott Parsons Prize for distinguished and original contributions to the social sciences. The award will be presented to Professor Labov in March in Philadelphia at the University of Pennsylvania, where he has been on the faculty since 1971.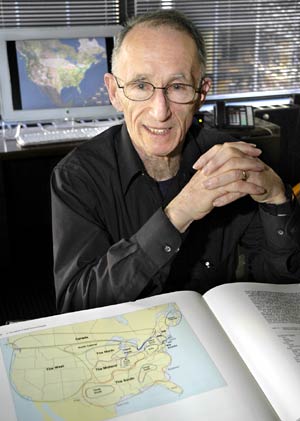 Labov is regarded as the founder of variationist sociolinguistics, which is a discipline dedicated to understanding and researching language in relation to social factors that include region, race, class, and gender. The impact of Labov's work is far-reaching and extends through the practice of language science around the world, hundreds of significant publications, and the countless students and scholars he mentored. His influence has been felt in education, sociology, computational and cognitive science, and law.
Social justice concerns have fueled Labov's work throughout his career. He has sought to demonstrate that the speech of stigmatized groups is as systematic and structured as any other and has worked to promote literacy and develop reading and teaching materials for speakers of non-standard dialects.
"We are honoring William Labov for a commitment to scholarly exploration and social equity," said David W. Oxtoby, President of the American Academy of Arts & Sciences. "His academic distinction and his dedication to promoting understanding exemplify the Academy's mission to recognize excellence and advance the common good." 
Labov said he looked forward to receiving the Talcott Parsons Prize and making it an opportunity to share his fundamental belief that "The study of language as it is used in everyday life shows that all languages and dialects have the capacity to describe the world as it is."
First awarded in 1974, the Talcott Parsons Prize was established to honor the noted sociologist and former president of the Academy. Previous recipients of the prize include Joan Wallach Scott (history), Daniel Kahneman (psychology), William Julius Wilson (sociology), and Albert O. Hirschman (economics).
Labov studied English and philosophy at Harvard University, earning his B.A. in 1948, and worked as an industrial chemist for a decade. In 1961, he entered graduate school in linguistics at Columbia University and under the direction of Uriel Weinreich completed his Ph.D. in 1964. He worked at Columbia until 1971 before joining the faculty of the University of Pennsylvania, where he taught until his retirement in 2014.
Throughout his career, Labov has published research on a range of topics within sociolinguistics as well as in discourse analysis, narrative, and historical linguistics. His influence has also been felt in adjacent disciplines such as anthropology, sociology, and education. He served as president of the Linguistic Society of America in 1979 and was elected to the National Academy of Sciences in 1993. The Franklin Institute recognized Labov's accomplishments in 2013 with the Benjamin Franklin Medal in Computer and Cognitive Science. In 2015, he received the Smith Medal in Linguistics from the British Academy. He is co-editor of Language Variation and Change, which he established in 1989, and of the Journal of Linguistic Geography, which he co-founded in 2012.
The American Academy of Arts & Sciences, founded in 1780, honors excellence and brings together members and other leaders across disciplines, fields, and professions to pursue nonpartisan research and provide critical insight on issues of profound importance to the nation and the world. Areas of focus include the arts and humanities, democracy, education, global affairs, and science policy.