Project Outreach Activities: New Dilemmas in Ethics, Technology, and War
On Tuesday, December 5, 2017, Scott Sagan (Stanford University) delivered a lecture at the National Museum of Natural History Q?rius Theater, drawing on his Dædalus article published as part of the New Dilemmas in Ethics, Technology, and War project.
In a series of over 40 extraordinary drawings now housed in the National Anthropological Archives at the National Museum of Natural History (NMNH), Red Horse, a Minneconjou Sioux warrior who fought at the 1876 Battle of the Little Bighorn – also known as Custer's Last Stand – vividly and candidly portrayed the unrestrained brutality of the battle and its aftermath. Sagan discussed how this artwork not only helps us gain insight into what warfare was like without the laws of armed conflict to constrain violence, but can also help us better understand contemporary warfare in the age of fast-paced technology.
On November 9, 2017, Scott Sagan (Stanford University) delivered the 2017 John Gee Memorial Lecture at Australian National University. He discussed the New Dilemmas in Ethics, Technology, and War project, and his research on nuclear weapons, including how we can apply lessons from the Cold War in responding to the current North Korean crisis.
On November 8, 2017, Scott Sagan (Stanford University) delivered a plenary address during the Ethics and War Conference at the International Society for Military Ethics (Asia Pacific chapter). Sagan spoke about the New Dilemmas in Ethics, Technology, and War project and his research on nuclear weapons. Gareth Evans (former Foreign Minister of Australia; Australian National University) and New Dilemmas in Ethics, Technology, and War project contributor Seth Lazar (Australian National University) served as discussants.
The Academy has organized two sets of meetings with international organizations and NGOs in Geneva, including the UN High Commissioner for Refugees (UNHCR). In May 2016, Tanisha Fazal (University of Notre Dame), Michael C. Horowitz (University of Pennsylvania), Keith Krause (Graduate Institute of International and Development Studies), and Leslie Vinjamuri (SOAS, University of London; Chatham House) were invited to brief high-level leadership at the UNHCR just a week before they began working on a new long-range strategic plan. During a series of meetings, the group discussed some of the underlying issues related to technology and the changing nature of warfare that will affect the context in which UNHCR operates over the next five years. A series of follow-up briefings in July 2017 featured another project contributor, Paul Wise (Stanford University), who shared his work on how technology can help us better understand the full human costs of war. During each trip, project contributors also met with other Geneva-based international and humanitarian organizations, including the World Health Organization (WHO), the International Committee of the Red Cross (ICRC), the Centre for Humanitarian Dialogue, and Médecins Sans Frontières (MSF).
On April 24, 2017, the New Dilemmas in Ethics, Technology, and War project co-hosted a workshop with the U.S. Air Force Academy and CISAC at Stanford. The event featured presentations from four contributors to the project's Dædalus volumes: project chair Scott Sagan (Stanford University), General C. Robert Kehler (USAF, ret.; former commander of STRATCOM), Antonia Chayes (former Undersecretary of the U.S. Air Force), and Laura Savarese (JD and Ph.D. candidate, Yale University). Approximately 120 attendees from the US Air Force Academy, University of Denver, and Colorado College attended the workshop, which included breakout discussions and a final plenary discussion to explore the ethical issues raised by the speakers in greater depth, and to identify avenues for further research. On Tuesday, April 25, 2017, the group participated in a roundtable discussion and Sagan and Kehler delivered guest lectures to classes at USAFA.
The Academy organized two roundtable discussions with the United Nations Department of Peacekeeping Operations in February and April 2017. The first session, on "Populations, Perceptions, Power, and Peace Operations" featured project chair Scott Sagan (Stanford University) and fellow Dædalus contributors Tanisha Fazal (University of Notre Dame) and Jacob N. Shapiro (Princeton University) participated. The panel also featured Clare Lockhart (Institute for State Effectiveness) and William Reno (Northwestern University), who are contributing to the Academy's Civil Wars, Violence, and International Responses project. The group discussion examined how we can understand the links between local populations and armed actors, and the effects of these relationships for UN peacekeeping.
A second on "Intelligence in UN Peacekeeping Operations," featured Joseph H. Felter (Stanford University), Michael C. Horowitz (University of Pennsylvania), and David P. Fidler (Indiana University Maurer School of Law). This session sought to explore the ethical implications of UNDPKO's increasing use of modern surveillance tools in peacekeeping operations. The three panelists drew on the lessons learned from their Dædalus articles, which addressed autonomous weapons, counterinsurgency, and cyber weapons.
Numerous polls demonstrate that U.S. public approval of President Truman's decision to drop atomic bombs on Hiroshima and Nagasaki has declined significantly since 1945, with less than 50% support now compared with 85% support in 1945. Many scholars and political figures have suggested that this is evidence of the emergence of a "nuclear taboo" and a "non-combatant immunity norm." New survey experiments, however, demonstrate that a majority of Americans would approve of nuclear weapons attacks against Iran to avoid U.S. military casualties in the future, suggesting that a "nuclear taboo" has not taken hold among the U.S. public and that support for non-combatant immunity is shallow. On November 30, 2016, Scott Sagan discussed these findings and the work of the project on New Dilemmas in Ethics, Technology, and War at a public lecture at the University of Oxford's Blavatnik School.
On November 29, 2016, the New Dilemmas in Ethics, Technology, and War project co-hosted a series of panel discussions on ethics and nuclear weapons with the School of Security Studies at King's College London. The program featured a discussion on re-thinking the ethics of nuclear weapons; the consequences of collateral damage; and public opinion, soldiers, and war. The Academy also organized a series of briefings in London and Oxford in connection with the publication of two issues of Dædalus: "Ethics, Technology & War" (Fall 2016) and "The Changing Rules of War" (Winter 2017).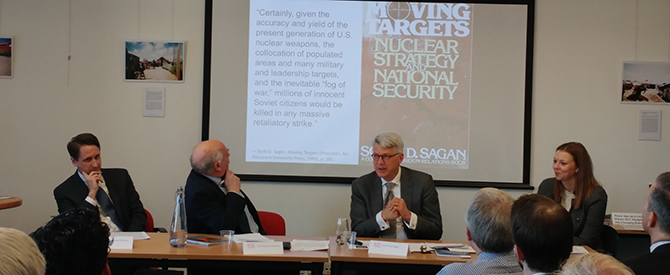 Benjamin Valentino (Dartmouth College), Sir Lawrence Freedman (King's College London), Scott Sagan (Stanford University), and Heather Williams (King's College London) participate in a panel discussion on "Rethinking the Ethics of Nuclear Weapons' during the "Ethical Dilemmas in War" event in November 2016.
On November 16, 2016, the American Academy hosted a panel discussion at Stanford University highlighting the work of the Academy's project on New Dilemmas in Ethics, Technology, and War.
During his visit to Hiroshima in May 2016, President Barack Obama called for a "moral awakening": for new institutions to address the destructive power of nuclear weapons. "Hiroshima teaches this truth," Obama said: "Technological progress without the equivalent progress in human institutions can doom us. The scientific revolution that led to the splitting of an atom requires a moral revolution as well."
Incentives to improve national security and win conflicts often have led to the development and use of new and more destructive technologies of war. And yet, especially since World War II, strong incentives have also existed to prohibit aggression and promote self-defense, to encourage legal and moral constraints on violence in war to protect noncombatants, and to punish soldiers and political leaders whose actions are judged to be war crimes. As technological advancement continues unabated, complex organizations—such as the military, government, international organizations, and the medical and humanitarian communities—are continuously called to navigate the complex dilemma between national security imperatives and ethical and legal commitments.
The discussion, moderated by Debra Satz (Marta Sutton Weeks Professor of Ethics in Society and Senior Associate Dean for the Humanities and Arts, Stanford University), featured presentations on "Ethics, Law, and U.S. Nuclear Targeting Policy" by Scott Sagan (Caroline S.G. Munro Professor of Political Science, Stanford University; Project Director, New Dilemmas in Ethics, Technology, and War), "Limiting Civilian Casualties as Part of a Winning Strategy" by Joseph Felter (Senior Research Scholar, Center for International Security and Cooperation, Stanford University; U.S. Army, ret.), and "Confronting the True Human Cost of Conflict: The Epidemiologic Challenge to Just War Theory" by Paul Wise (Richard E. Behrman Professor of Child Health and Society and Professor of Pediatrics and Health Policy, Stanford University School of Medicine). Read more, watch the panelists' presentations, or listen to a recording of the event.
On February 22-26, 2016 we hosted a meeting to discuss the role of ethics in international affairs at the Rockefeller Foundation's Bellagio Center in Bellagio, Italy. The meeting featured scholars and policy-makers from 14 nationalities and a wide range of disciplines including medicine, anthropology, sociology, international relations, economics and law. Participants included Hilal Elver, UN Special Rapporteur on the Right to Food; Shaden Khallaf, Senior Policy Officer, Office of the Director, United Nations High Commission for Refugees (UNHCR) Middle East North Africa Bureau; Jennifer Welsh, Special Advisor to the UN Secretary-General for the Responsibility to Protect; Stephen Krasner, former Director of Policy Planning at the U.S. Department of State; and Karim Haggag, Deputy Director, Academy of Diplomatic Studies, Egyptian Ministry of Foreign Affairs.
The American Academy's project on New Dilemmas in Ethics, Technology, and War hosted its first authors' workshop at Stanford University on June 30 – July 1, 2015. At the workshop, authors contributing to two forthcoming issues of Dædalus discussed their draft essays and received feedback from other project contributors, military leaders, policy-makers, and scholars. In addition, the Academy hosted a public event on "Writing About War," featuring Natasha Trethewey (19th Poet Laureate of the United States) and Phil Klay (author of Redeployment, winner of the 2014 National Book Award for Fiction). Video of the full event is available here.