Back to publications
The Heart of the Matter identifies three overarching goals: 1) to educate Americans in the knowledge, skills, and understanding they will need to thrive in a twenty-first-century democracy; 2) to foster a society that is innovative, competitive, and strong; and 3) to equip the nation for leadership in an interconnected world. These goals cannot be achieved by science alone.
In five interrelated chapters, the report delineates the importance of the humanities and social sciences in K-12 Education; Two- and Four-Year Colleges; Research; Cultural Institutions and Lifelong Learning; and International Security and Competitiveness. It advances arguments for strengthening teaching and research in the humanities and social sciences. It recommends the expansion of lifelong learning programs. It recognizes the urgent need to support the next generation of humanists and social scientists. And it reaffirms the connections between the humanities and social sciences, and the physical and biological sciences.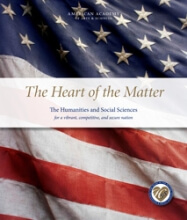 American Academy of Arts & Sciences
Table of Contents