Project
Commission on the Humanities and Social Sciences
November 2014
November 8, 2014, Karl Eikenberry (former U.S. Ambassador to Afghanistan; retired U.S. Army Lieutenant General; Fellow in International Security, Stanford University) spoke at the Twenty-Fifth Anniversary of the Chicago Humanities Festival, Journeys.
October 2014
On October 29, 2014, David Skorton (Secretary, Smithsonian Institution; former President, Cornell University) was interviewed by Philip Kennicott (Art and Architecture Critic, The Washington Post).
On October 10, 2014, David Souter (former Associate Justice, Supreme Court of the United States) delivered his lecture, "The Heart of the Matter: The Humanities and Social Sciences for a Vibrant, Competitive, and Secure Nation," to a standing room–only crowd in McConomy Auditorium at Carnegie Mellon University as part of the John and Mary Lou Lehoczky Lecture Series in the Humanities and Social Sciences.
May 2014
On May 12, 2014, Earl A. "Rusty" Powell (Director, National Gallery of Art) was a featured speaker at an event for the University of Maine Humanities Center held in Washington, D.C.
April 2014
On April 21, 2014, Hunter Rawlings (President, Association of American Universities) and Norman Augustine (retired Chairman and Chief Executive Officer, Lockheed Martin Corporation) spoke at Carnegie Mellon University as part of Subra Suresh's (President, Carnegie Mellon University) inaugural Presidential Lecture Series.
March 2014
On March 10, 2014, Francisco Cigarroa (former Chancellor, University of Texas System; Head of Pediatric Transplant Surgery, University of Texas Health Science Center at San Antonio) delivered the keynote address at the Annual Meeting of the National Humanities Alliance.
On March 7, 2014, North Carolina State University convened a symposium bringing together Richard Brodhead (President, Duke University), Randy Woodson (Chancellor, North Carolina State University), Tom Ross (President, University of North Carolina), Karl Eikenberry, and Congressman David Price (D-North Carolina) to speak with leaders in North Carolina government, industry, and philanthropy, as well as concerned citizens, about the importance of the humanities and social sciences in their state.
February 2014
On February 27, 2014, Annette Gordon-Reed (Charles Warren Professor of American Legal History, Carol K. Pforzheimer Professor at the Radcliffe Institute for Advanced Study, and Professor of History, Harvard University) participated in the University of Maryland's Worldwise lecture series and spoke about Thomas Jefferson and historical research.
On February 24, 2014, John Rowe (retired Chairman and Chief Executive Officer, Exelon Corporation) addressed students at DePaul University.
January 2014
On January 27, 2014, seven Commission members (Norm Augustine, Phil Bredesen, Richard Brodhead, Wayne Clough, Karl Eikenberry, John Lithgow, and Pauline Yu) met with seven Senators in Washington, D.C., to discuss possible next steps. Mark Warner (D-Virginia) hosted the dinner; guests included Lamar Alexander (R-Tennessee), Michael Bennett (D-Colorado), Al Franken (D-Minnesota), Amy Klobuchar (D-Minnesota), Saxby Chambliss (R-Georgia), and Sheldon Whitehouse (D-Rhode Island).
On January 23, 2014, the Academy held a Stated Meeting on "Humanities in the Digital Age" at Stanford University, which was organized under the umbrella of the Commission. Speakers included Stanford University professors Richard Saller (Vernon R. and Lysbeth Warren Anderson Dean of the School of Humanities and Sciences and Kleinheinz Family Professor of European Studies), Joshua Cohen (Martha Sutton Weeks Professor of Ethics in Society and Professor of Political Science, Philosophy, and Law), Michael Keller (Ida M. Green University Librarian; Publisher, Stanford University Press and HighWire Press), Franco Moretti (Danily C. and Laura Louise Bell Professor and Professor of English and Comparative Literature), and Elaine Treharne (Roberta Bowman Denning Professor of Humanities and Professor of English, and, by Courtesy, of German Studies).
Also on January 23, 2014, James Cuno (President and Chief Executive Officer, J. Paul Getty Trust; International Secretary, American Academy of Arts and Sciences) spoke on a panel on "Humanities in the Digital Age" at the 2014 World Economic Forum in Davos, Switzerland.

Commission Member Diane Wood and Chicago Mayor Rahm Emanuel

On January 9, 2014, the Academy partnered with the Chicago Humanities Festival and the Modern Language Association (MLA) to host the Chicago Humanities Summit. The Summit, which was the first event of the MLA's annual meeting, opened with a panel of Commission members—Richard Brodhead, John Rowe, and Diane Wood (Chief Judge, United States Court of Appeals for the Seventh Circuit)—who discussed the report and outreach efforts thus far (the panel was moderated by National Public Radio's Alison Cuddy). Attendees also participated in a series of workshops based on report themes (including "How to be Heard beyond the Academy" and "How to Work with Your State Humanities Council") before reconvening for a summation and "rally."
The night before the Summit, the Academy held a dinner for Summit organizers, Academy Fellows, and other guests. During the dinner, Karl Eikenberry spoke movingly about American soft power and the importance of the humanities and social sciences in foreign policy. Chicago Mayor Rahm Emanuel welcomed the group during the cocktail reception. Earlier that afternoon, Commission members met with the editorial board of the Chicago Tribune.
November 2013
On November 20, 2013, John Rowe addressed students at the Illinois Institute of Technology.
On November 18, 2013, actor John Lithgow spoke at the University of Maryland as part of the Arts and Humanities Dean's Lecture Series. His talk included a performance set to music of his new children's book, Never Play Music Right Next to the Zoo, as well as an Actor's Studio–style question and answer session.
October 2013
On October 31, 2013, Wayne Clough (former Secretary, Smithsonian Institution; President Emeritus, Georgia Institute of Technology) spoke at an event at the University of West Georgia, organized in cooperation with the Georgia Humanities Council.
On October 23, 2013, Richard Brodhead (President, Duke University) delivered the Presidential Address at the 2014 College Board Forum.
Also on October 23, 2013, the Rhode Island Council for the Humanities organized an episode of the National Public Radio show "Action Speaks!" that was inspired by the Commission report; Governor of Rhode Island Lincoln Chafee was the featured panelist.
On October 17, 2013, the University of Maine held a fund-raising event in Portland based on the Commission's film and report. Brian Naylor (Correspondent, Washington Desk, National Public Radio), a University of Maine alumnus, was the featured speaker. Earlier in the day, Brian Naylor, Jeffrey E. Hecker (Executive Vice President for Academic Affairs and Provost, University of Maine), and John Tessitore (Program Director for the Humanities and Education, American Academy of Arts and Sciences) met with the Portland Press Herald editorial board, which resulted in the editorial "Our View: The Humanities Still Teach Marketable Skills."
September 2013
On September 12, 2013, the first State Humanities Council event was held in Albany, New York, in cooperation with the New York Humanities Council, the New York State Library, the New York State Museum, and the New York State Archives. The event featured David Souter (former Associate Justice, Supreme Court of the United States), who addressed a crowd of three hundred people.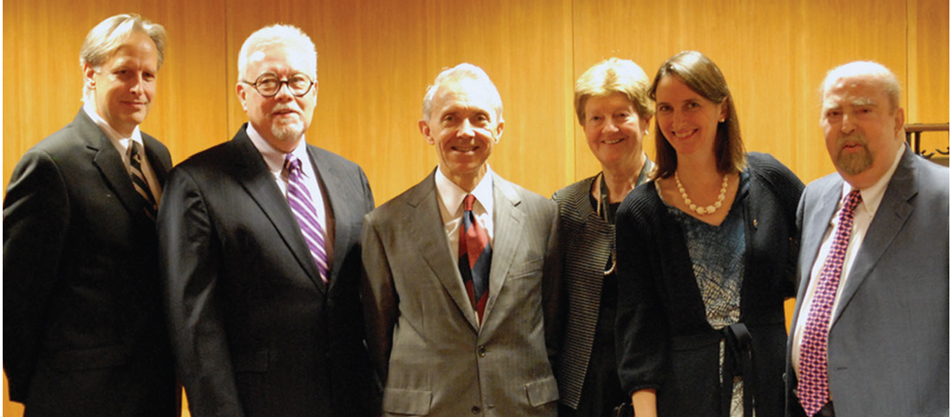 Left to right: Director of the New York State Museum Mark Schaming, New York State Deputy Commissioner for Cultural Education Jeffrey Cannell, Commission Member and retired Associate Justice of the U.S. Supreme Court David Souter, New York State Archivist Christine Ward, Executive Director of the New York Council for the Humanities Sara Ogger, and New York State Librarian Bernard Margolis.
Op-eds by Commission members have appeared in The New York Times, The Los Angeles Times, The Washington Post, Time, USA Today, Austin American-Statesman, and other major publications. Comedy Central's Colbert Report and PBS's NewsHour also covered the report. Multiple regional outlets of National Public Radio have aired interviews with Commission members.