The Humanities and the Dynamics of Inclusion Since World War II
Back to publications
Edited and introduced by David Hollinger, this volume explores and analyzes the evolution of humanities disciplines and institutions, examines the conditions and intellectual climate in which they operate, and assesses the role and value of the humanities in society.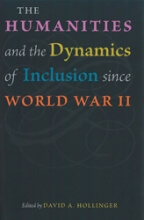 John Hopkins University Press
Table of Contents
Part 1: Academia and the Question of a Common Culture
"Who's Afraid of Marcel Proust? The Failure of General Education in the American University"
John Guillory
"Demography and Curriculum: The Humanities in American Higher Education from the 1950s through the 1980s"
Roger L. Geiger
"The Scholar and the World: Academic Humanists and General Readers"
Joan Shelley Rubin
Part 2: European Movements against the American Grain?
"The Ambivalent Virtues of Mendacity: How Europeans Taught (Some of Us) to Learn to Love the Lies of Politics"
Martin Jay
"The Place of Value in a Culture of Facts: Truth and Historicism"
James T. Kloppenberg
"Philosophy and Inclusion in the United States, 1929-2001"
Bruce Kuklick
Part 3: Social Inclusion
"Catholics, Catholicism, and the Humanities, 1945-1985"
John T. McGreevy
"The Black Scholar, the Humanities, and the Politics of Racial Knowledge Since 1945"
Jonathan Scott Holloway
"Women in the Humanities: Taking Their Place"
Rosalind Rosenberg
Part 4: Area Studies at Home and Abroad
"American Studies and the Expansion of the Humanities"
Leila Zenderland
"The Ironies of the Iron Curtain: The Cold War and the Rise of Russian Studies"
David C. Engerman
"What is Japan to Us"?
Andrew E. Barshay
"Havana and Macondo: The Humanities Side of U.S. Latin American Studies, 1940-2000"
Rolena Adorno
Author Information
David A. Hollinger is Preston Hotchkis Professor of American History at the University of California, Berkeley, and a Fellow of the American Academy of Arts and Sciences.