State of the Humanities 2022: From Graduate Education to the Workforce
Share of Graduate Degree Holders Who Perceive a Close Relationship between Job and Degree, by Field and Level of Highest Degree, 2019
Back to table of contents
Project
Humanities Indicators
Share of Graduate Degree Holders Who Perceive a Close Relationship between Job and Degree, by Field and Level of Highest Degree, 2019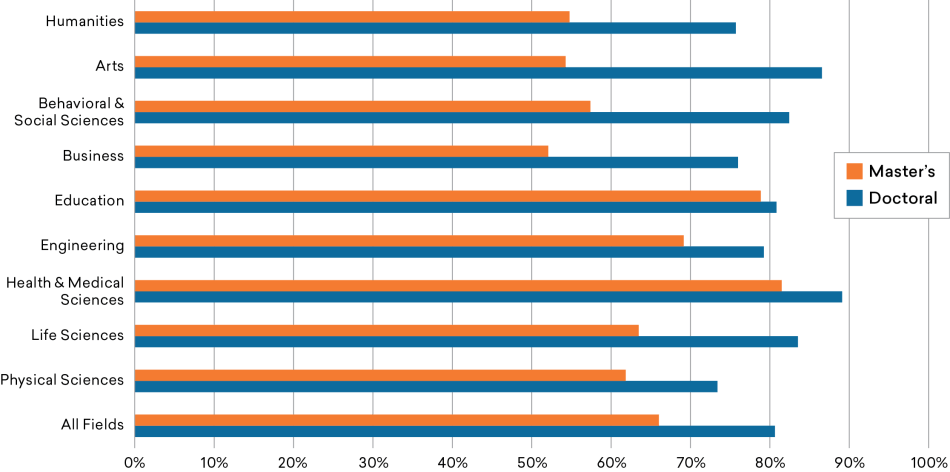 Among master's degree recipients, 55% of humanities graduates perceived a close relationship between their job and their degree. While this was substantially smaller than the shares for some of the vocationally focused fields (education, engineering, health and medical sciences), it was similar to graduates from the arts, behavioral and social sciences, and business. Although not shown on the chart, approximately 23% of humanities master's degree holders believed that their work was not at all related to their degree, a markedly larger share than observed in any other field, with the exception of the arts.
Approximately three-quarters of humanities doctoral degree holders perceived a close relationship between job and degree. This was similar to business, engineering, and physical sciences graduates but a smaller share than for every other field. In contrast to master's students, only 3% of humanities PhDs believed their degree was not at all related to their job.12
Endnotes
12Original analysis by the Humanities Indicators of data from the National Science Foundation, National Center for Science and Engineering Statistics, National Survey of College Graduates.