State of the Humanities 2022: From Graduate Education to the Workforce
Share of Humanities Degrees Conferred on Members of Traditionally Minoritized Racial/Ethnic Groups Over Five-Year Period, by Degree Level, 2016–2020
Back to table of contents
Project
Humanities Indicators
Share of Humanities Degrees Conferred on Members of Traditionally Minoritized Racial/Ethnic Groups Over Five-Year Period, by Degree Level, 2016–2020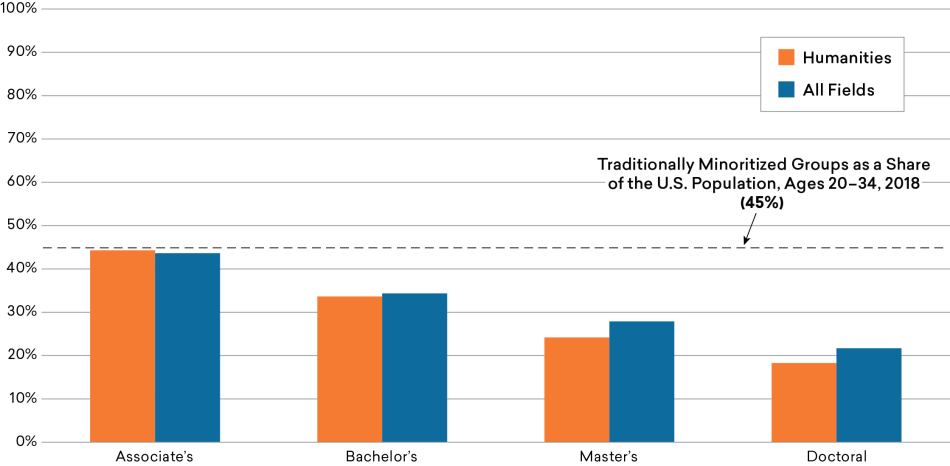 Comparing the share of degrees at each level earned by students from traditionally minoritized racial and ethnic groups (Alaska Native, American Indian, Asian American, Black, Hispanic/Latino, Native Hawaiian, and other Pacific Islander) highlights a persistent challenge for the field. Forty-four percent of associate's degrees conferred in the humanities from 2016 to 2020 were awarded to students from these groups, a share similar to their representation in the population of young adults. At each subsequent degree level, however, this share decreases, with only 18% of doctorates conferred on students from these groups.
At the associate's and bachelor's degree levels, the share of humanities degrees awarded to these students is similar to the share for all fields combined. At the graduate level, however, these students are less likely to be found among those earning degrees in the humanities.6
Endnotes
6Ibid; and U.S. Census Bureau, Population Division, "Annual Estimates of the Resident Population by Sex, Age, Race, and Hispanic Origin for the United States: April 1, 2010 to July 1, 2019" (NC-EST2019-ASR6H).